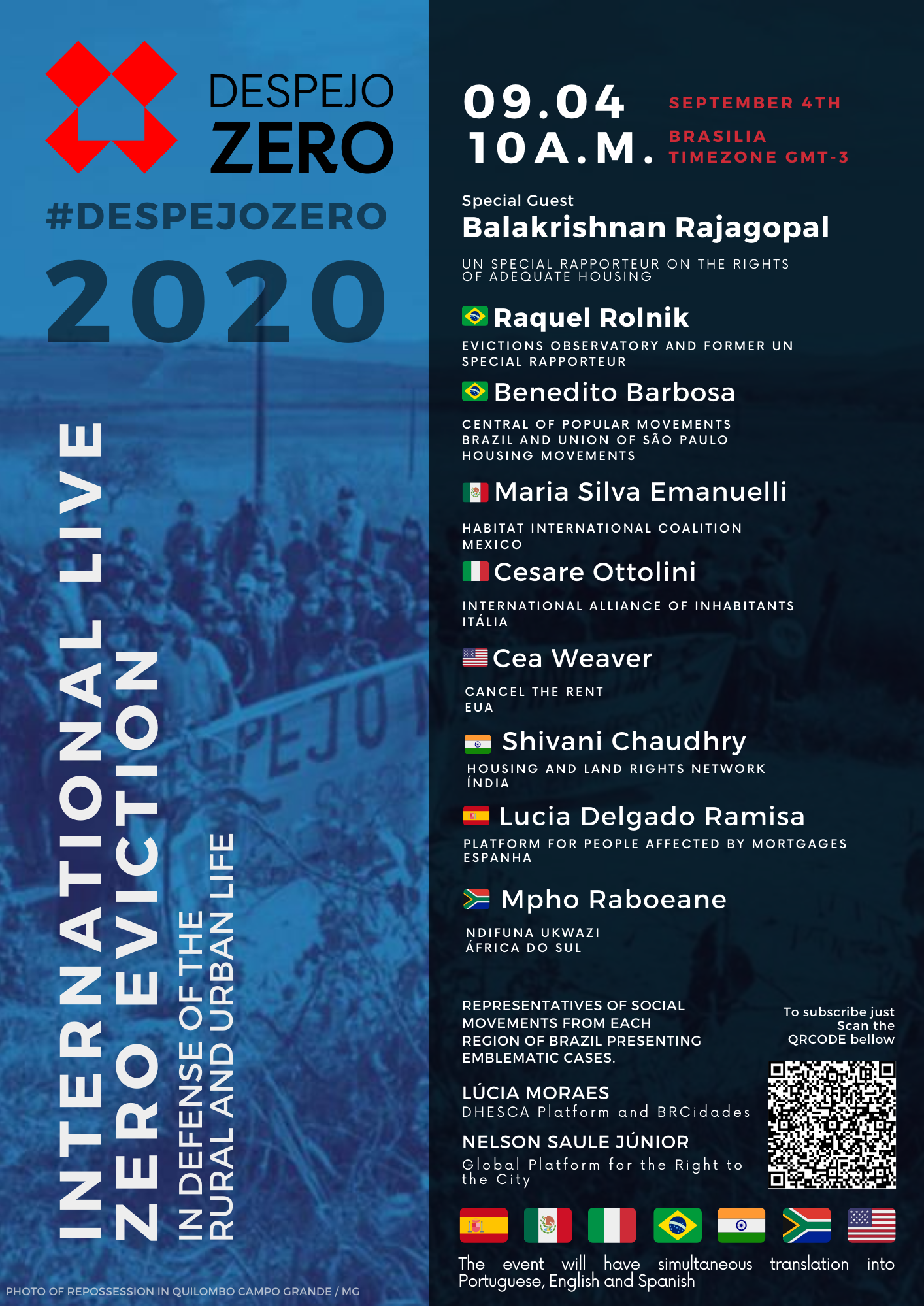 Global launch of the Zero Eviction Campaign
The Pólis Institute, Global Platform for the Right to the City and DHESCA Brazil Platform will hold an international online event in favor of the suspension of evictions during the health crisis caused by the Covid-19 pandemic. The event will take place on Friday, September 4th, and will count with the participation of  Balakrishnan Rajagopal, UN Special Rapporteur on the Right to Adequate Housing, and leaders of social movements from Brazil and the world. 
The meeting will begin at 1:00 PM (GMT+0 – check your local time here)  and will be broadcast through Zoom and on the Facebook pages of the Pólis Institute and other organizations involved. The event will have simultaneous translation into Portuguese, English and Spanish.
Registration for the event can be done here.  
The initiative is part of the Zero Eviction Campaign, created with the objective of pressuring the competent authorities in Brazil with the support of the population, to put an end to evictions, whether they are the result of private or public initiative, which have the purpose of displacing families and urban or rural communities. In order to broaden its scope, the campaign believes it is essential to reflect this mobilization at the international level. For this reason, it decided to organize an online international seminar with the presence of social movement leaders from different cities around the world who are fighting against evictions. 
Confirmed speakers:
Balakrishnan Rajagopal – United Nations Special Rapporteur on Adequate Housing

Benedito Barbosa – Central of Popular Movements (Brazil) 

Raquel Rolnik – Evictions Observatory/LabCidade, Former United Nations Special Rapporteur on Adequate Housing

Maria Silvia Emanuelli – Habitat International Coalition (Mexico) 

Cesare Ottolini – International Alliance of Inhabitants (Italy)

Cea Weaver – Cancel the Rent (EUA)

Shivani Chaudhry – Housing and Land Rights Network (India)

Lucía Delgado Ramisa – Platform for People Affected by Mortgages (Spain)

Mpho Raboeane – Ndifuna Ukwazi (South Africa)

Nelson Saule Júnior – Global Platform for the Right to the City (Brazil)

Lúcia Moraes – DHESCA Platform (Brazil) 

representatives of social movements from each region of Brazil presenting emblematic cases.