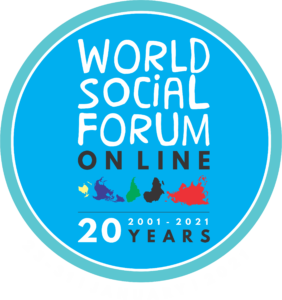 The Global Platform for the Right to the City (GPR2C) will participate, from January 23th to January 31st, in the World Social Forum 2021. The 20th-anniversary edition will be virtual due to the pandemic. The event program and the daily self-organized assemblies will be a great opportunity for the GPR2C and its members to strengthen trusted alliances to continue promoting the Right to the City at a global level.
We encourage GPR2C members and allies to join the organizations and social movements from all over the world that will attend this edition of the World Social Forum (WSF). Considering the urgency caused by the challenges of the current global situation, it is now more necessary than ever to strengthen our convergence networks to articulate global and territorial campaigns and actions.
AGENDA
Tuesday 26
Wednesday 27
Thursday 28
Friday 29
Saturday 30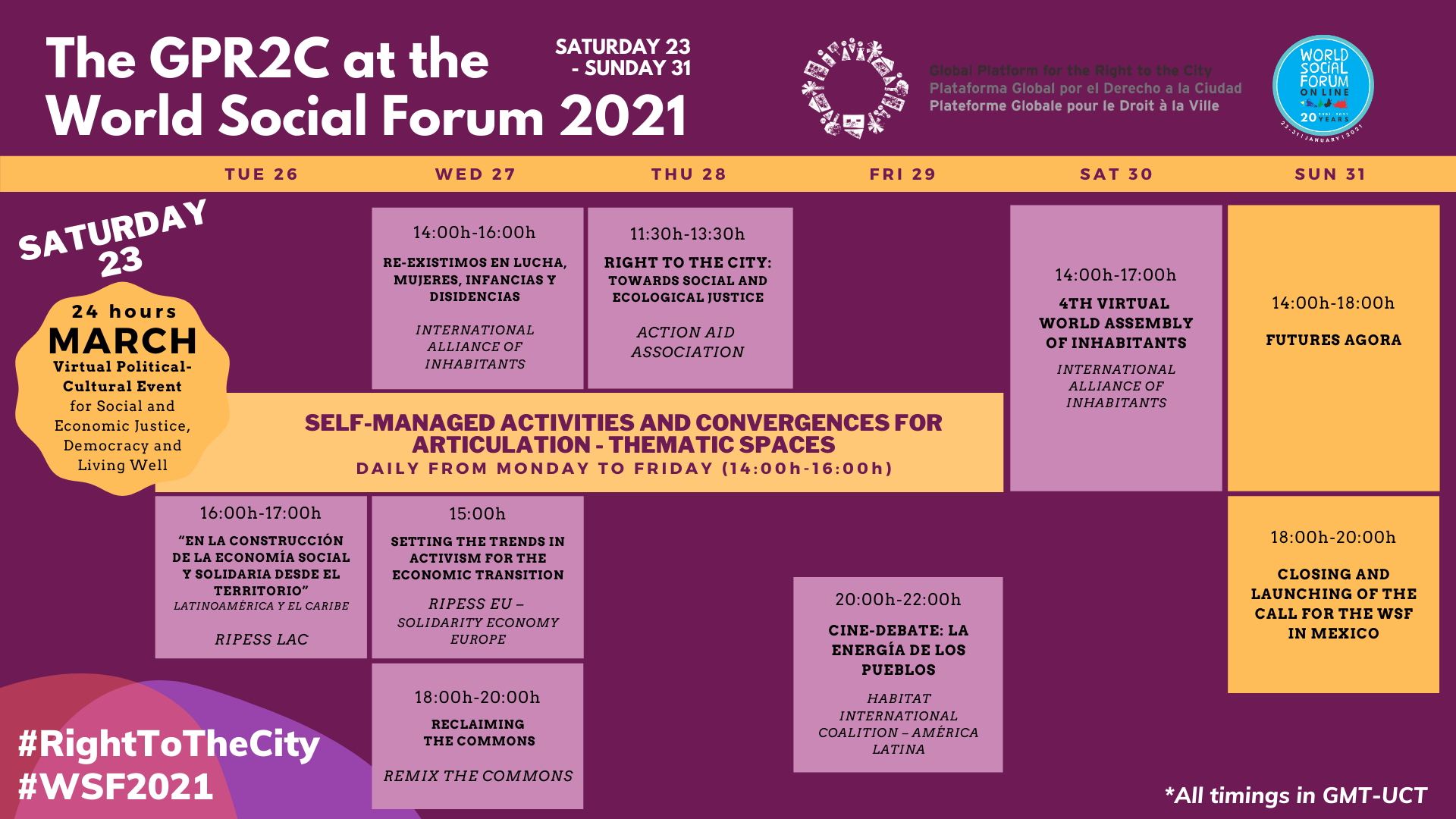 We invite you to actively participate in all the events! We also want to especially encourage the participation at the Self-Managed Assemblies and Convergences for Articulation that will take place every day (14h-16h GMT-UTC), and that will culminate with the Self-Managed Assemblies Movements for an Action Agenda on Saturday 30 (14h-18h GMT-UTC).
HOW TO PARTICIPATE
In order to participate in this edition, it will be necessary to register in the virtual module where access to the activities will be enabled. This edition of the WSF is part of a wide and intense process of debates, campaigns, and struggle, which will take place in all continents throughout the year. With all of that, we envision a powerful post-pandemic planetary edition of the WSF, which is expected to take place in Mexico by the end of 2021 or the beginning of 2022.
We encourage all our partners to promote broad and deep debates on the overlapping crises of capitalism in this WSF, for the articulation of global policy responses and coordinated action. Let us give voice to alternatives for a "solidarity globalization", while confronting the neoliberal model of globalization.
20th ANNIVERSARY
In the context of the pandemic, the World Social Forum 2021, which was to be held in Mexico, will be entirely virtual. However, this will not cease to be a special edition because it will serve as a natural starting point for the celebration of the 20th anniversary of the creation of the World Social Forum, which took place in January 2001 in Porto Alegre, Brazil.
From January 25 to 29, 2001, 20,000 people gathered in Porto Alegre, in southern Brazil, to celebrate the First World Social Forum. Twenty years later, this international encounter of civil society organizations committed to a "solidarity globalization" remains firm in the defense and promotion of the Right to the City.
Join the World Social Forum to advance the Right to the City for All!