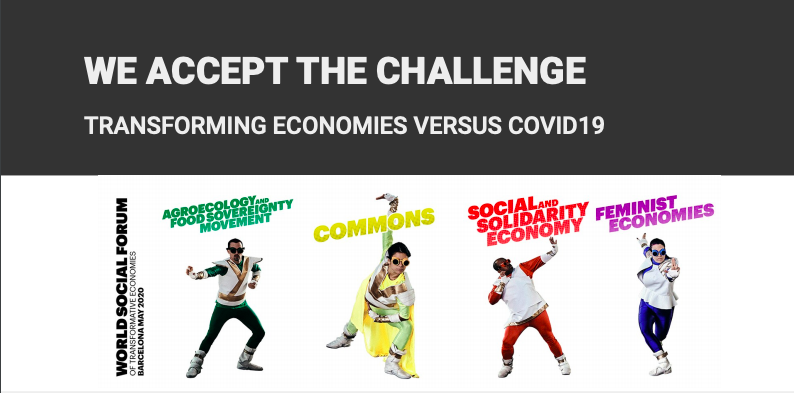 Originally published in: https://transformadora.org/
The World Social Forum on Transformative Economies will celebrate its second online edition from 23 to 25 October, under the theme "We Accept the challenge: Transformative Economies versus COVID-19", during the Solidarity Economy Fair of Catalonia in Barcelona.
The first edition took place from 25 June to 1 July, a meeting that aims to bring together social movements and initiatives that share the desire to put people and the environment at the centre of the economy and to end the economy based on extraction, growth, competitiveness and the market. The aim is to generate a framework of confluence of those economies that struggle to move towards resilient and collaborative societies, to build and strengthen alliances and joint strategic actions.
he online WSFTE Part 2 is getting closer and we are pleased to announce that the registration of self-managed activities is NOW OPEN.
During the WSFTE there will be 8 plenary sessions: during the Inauguration, the results and mapping of the WSFTE in June will be presented, we will see the results of the dynamic "We accept the challenge" on the 4 dimensions of transformation and there will be two sessions dedicated to what has been called "inter-confluence dialogues", with the aim of walking together towards the construction of a common Agenda of the Transformative Economies, which will be presented in the last plenary. This whole program will be completed by the self-managed activities registered by the different organizations, confluences, movements, etc. who are participating in the process.
Please, CLICK HERE if you want to register.
If you have any questions about the process of registration, what kind of activity you can register or what type of tools are available, we have created a brief explanatory guide that you will find easily in the registration platform and in the Virtual Forum.
Note that all the activities registered must be in line with the Charter of Principles of the World Social Forum, and it is necessary to take into account that the activities should not be of a self-referential nature, but rather, should be presented as spaces open to dialogue, joint reflection, and open debate.
If you have any online activity already planned, which is in line with the Forum's themes and can contribute to the overall process, you are welcome to register it as well. The activities will be registered to take place between October 26 and November 18. In principle, you can register at any time, although it is important to note that the registration platform is programmed according to the CET (Central European Time) time zone. This means that if the country from which you present the activity has another time zone, you will have to do the time conversion to CET. We ask not to present activities that overlap with the FSMET main program.
It would be a pleasure to have your activity in the framework of the FSMET!  We are looking forward for your participation.