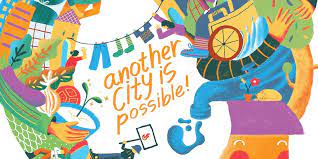 By Vanesha Manuturi, Kota Kita
In the past year, the cities that we live in today face what feels like a growing list of uncertainties. Communities in Indonesia and around the world have been impacted by the COVID-19 pandemic like nothing we have ever seen or experienced before. At the same time, the global health crisis has exposed and even exacerbated, many of the same inequalities and injustices that we already know exist in our cities.
Since 2013, The Urban Social Forum (USF) has become an open and inclusive space organized by Indonesia's Kota Kita with collaborators for people who care about and want to advocate for, their cities, to exchange knowledge, and debate ideas. Now in its 8th year, the USF persists to affirm the slogan "Another City is Possible!" as a call to facilitate critical conversations about what kind of city we want and need, and how cities can be more inclusive of all kinds of aspirations, communities, people, and futures.
The 8th Urban Social Forum launched in early September 2021 with the International Mini Forum to offer a critical moment of reflection to reclaim, reimagine and rebuild a collective imagination of better cities for all. From 7 to 10 September 2021, the International Mini Forum invited a network of activists, scholars, and practitioners from inside and outside of Indonesia to reflect on the questions and explore knowledge and ideas about the kind of city we want and need in this current day and age. The International Mini Forum hosted four sessions, the Opening Plenary, followed by three thematic discussions on A Healthy City, An Inclusive City, and A 'Foodie' City, respectively.
More than 600 participants registered to join in total from all over the world, including Indonesia, Brazil, the United States, and came from diverse age groups and backgrounds, from college students and activists to researchers and professors. We were honored to have collaborated with a line-up of inspiring speakers and moderators, including friends from the Global Right to the City platform such as Polis Institute and Habitat International Coalition.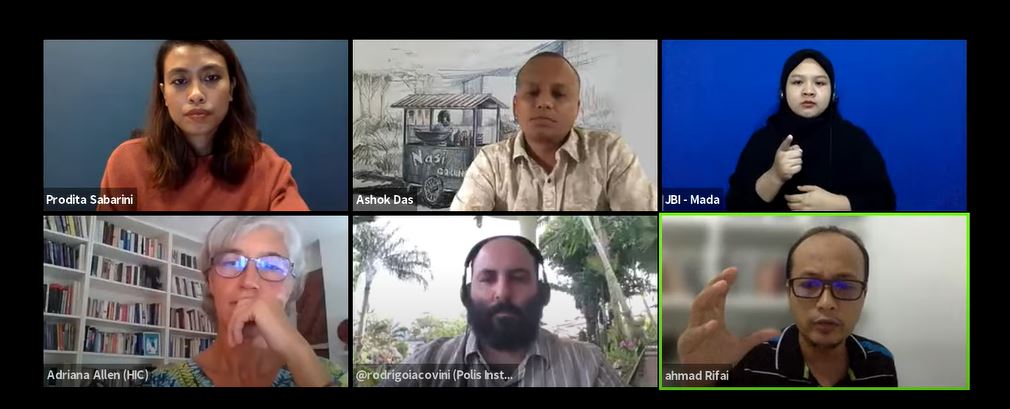 Opening Plenary: Another City is Possible! (Credit: Urban Social Forum)
The International Mini Forum began with The Opening Plenary: Another City is Possible! On 7 September 2021, where we discussed our collective right to imagine alternative visions for the city and the activism and advocacy necessary to make these visions a reality. The discussion was moderated by Prodita Sabarini, Executive Director of The Conversation Indonesia, with speakers including Ahmad Rifai from Kota Kita, Adriana Allen from Habitat International Coalition, Rodrigo Faria G. Iacovini from Polis Institute, and Beka Ulung Hapsara from Indonesia's National Commission for Human Rights (Komnas HAM). Ashok Das also joined us as a discussant.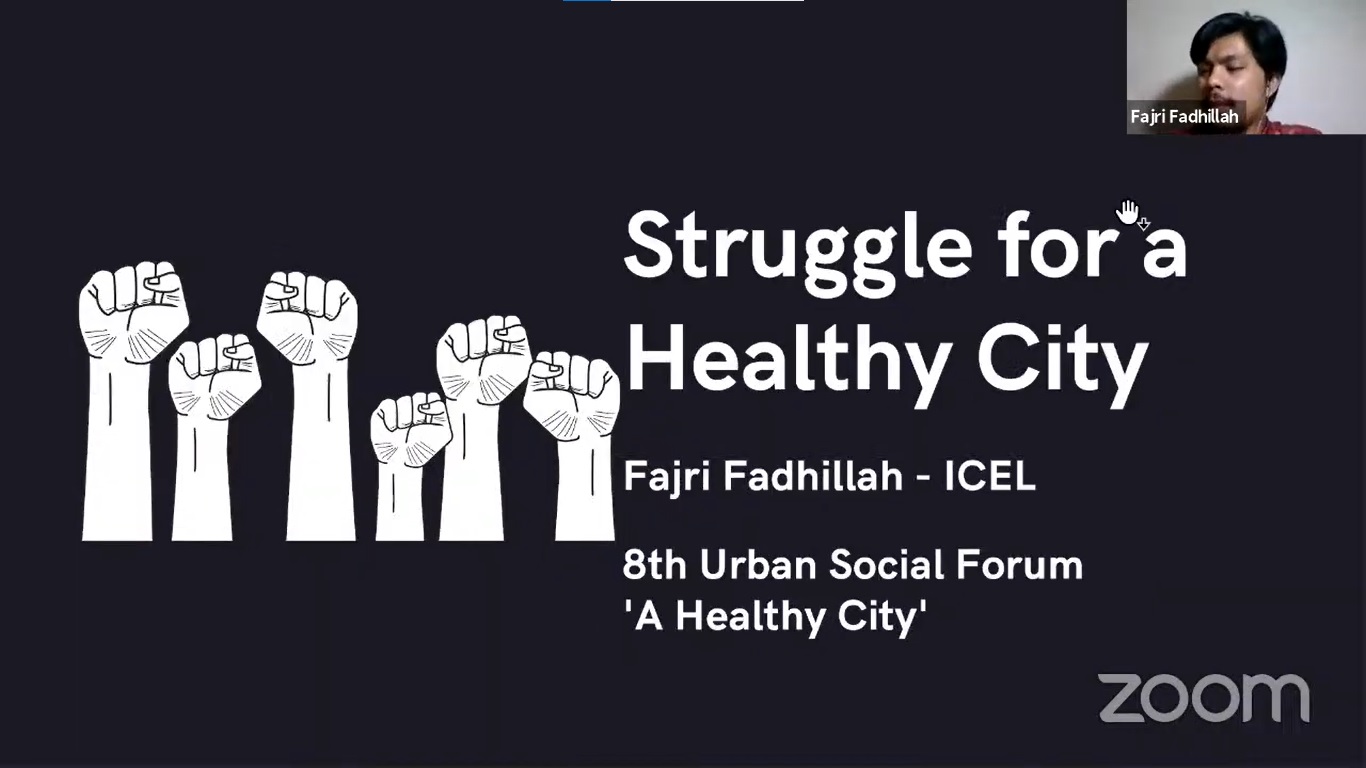 Fajri Fadhillah from Indonesain Center for Environmental Law during Thematic Discussion #1: A Healthy City (Credit: Urban Social Forum)
In the second session on 8 September 2021, Thematic Discussion #1: the Healthy City critically reflected on the right to be healthy in a city —particularly in the context of pressing challenges such as the COVID-19 pandemic as well as the impact of pollution and climate crisis—to imagine a healthy city for all. Elisa Sutanudjaja of Rujak Center of Urban Studies moderated the discussions. The list of speakers includes global health practitioner Rodri Tanoto, M. Shidiq of World Resources Institute (WRI) Indonesia, Fajri Fadhilla of Indonesian Center for Environmental Law, and Niken Prawestiti from Ayo Ke Taman.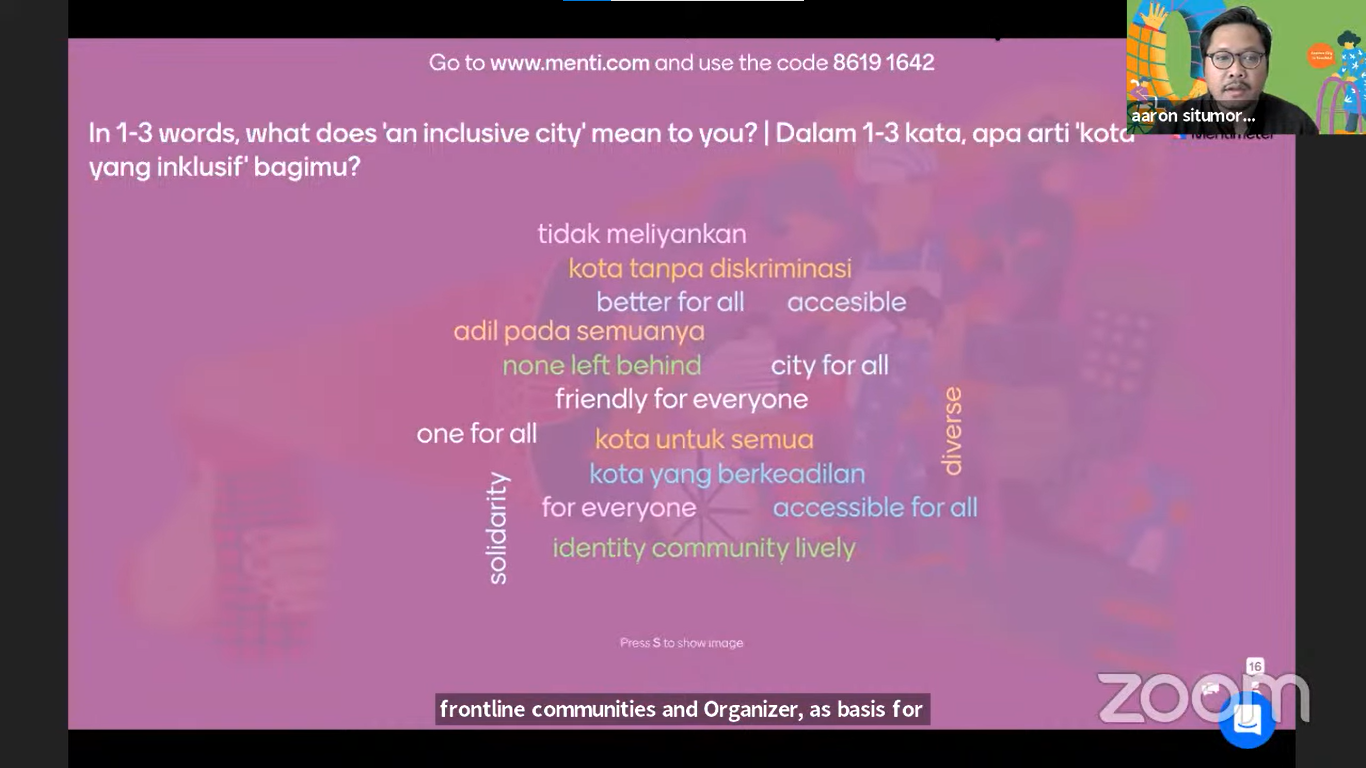 Thematic Discussion #2: A Inclusive City (Credit: Urban Social Forum)
The Thematic Discussion #2: An Inclusive City followed on 9 September 2021 as we deconstructed the concept of urban inclusivity and shared ideas, initiatives, and lessons learned on ways to ensure that everyone can reclaim the right to be acknowledged, represented, and included in the design and development of their cities. Moderated by Pulse Lab Jakarta's Aaron Situmorang, the speakers included Lily Song from Northeastern University, Anna Siprikova of US NACTO, Nina Asterina of Kota Kita and Purwanti from SIGAB Indonesia.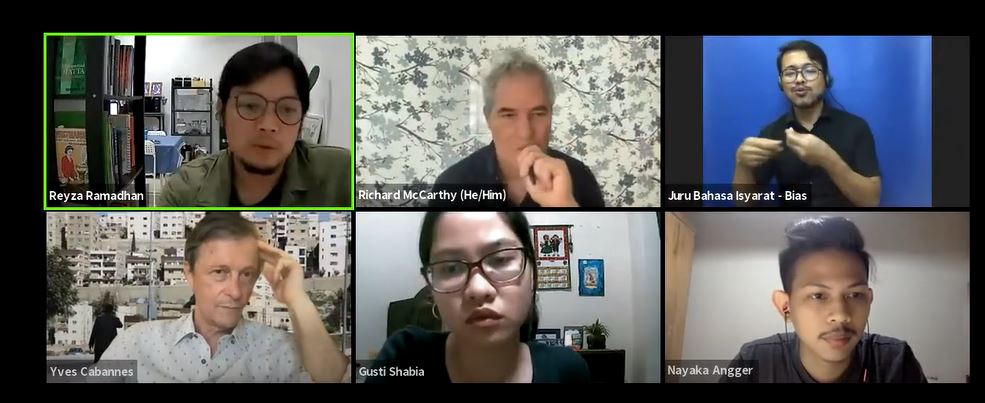 Thematic Discussion #3: A Foodie City (Credit: Urban Social Forum)
The final session of the International Mini Forum was the Thematic Discussion: A Foodie City on 10 September 2021, which discussed the urgent call to advocate the right to food in cities today and how we can strengthen the movement to achieve food sovereignty for all in Indonesian cities and beyond. Reyza Ramadhan, an Indonesian-based agricultural practitioner, joined as moderator, with speakers including Yves Cabannes, Kota Kita's Nayaka Angger, and Shabia from FIAN Indonesia.
As we work to rebuild our cities post-pandemic, critical conversations about alternative models of urban development which prioritizes on the rights, needs, and aspirations of citizens, is more important than ever. Over the course of four days, the International Mini Forum became a space to exchange ideas and knowledge on how we can create better cities—cities that are healthier, more inclusive, and today, a more food-resilient city. The 8th Urban Social Forum is now continuing to the second stage. From October to December, we will take the conversation back to the city scale and co-host local discussions in two cities of Indonesia – Jakarta, and Makassar.
We invite you to continue joining us in imagining, creating and affirming that
"Another City is Possible!"