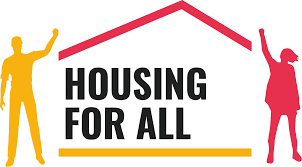 On June 5, UN Special Rapporteur for Adequate Housing, Leilani Farha, launched the European Citizen's Initiative, Housing for All.
About 82 million people in Europe are overburdened by housing costs. Homelessness is rising, and displacement of all kinds is becoming increasingly common.
Housing is a human right and not a commodity. The land and real estate prices are exploding in the growing cities. Global investors (pension funds, hedge funds) are buying up whole districts, because they are speculating on high profits. It is not about housing for them, it is about making money.
In spite of this, investment in public, social, and affordable housing is fast declining, while disruptive technologies such as  short term letting to tourists via digital platforms is shortening the available living space for the local population dramatically.
We demand better! Sign the initiative here to demand regulation and financial frameworks that enshrine a Right to Housing and a Right to the City!