UN Headquarters – ECOSOC Chamber, New York City
10-05-2015 / 10-05-2015
The Professor Michael Cohen from New School will present the Declaration of the Global Platform for the Right to the City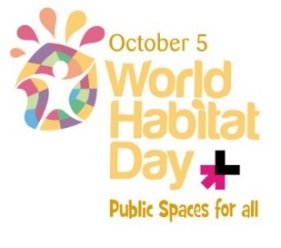 New York Celebration
Monday, October 5, 2015
09:30am – 6:00pm
UN Headquarters – ECOSOC Chamber
UN-Habitat, the Consortium for Sustainable Urbanization, the American Institute Architects New York, UN Women, the Institute of Global Homelessness, the United Cities and Local Governments and the Permanent Mission of Grenada to the United Nations join to host a high-level discussion, which will cover key developments in the area of public space design. In run-up to the HABITAT III Conference, and following the adoption of the Sustainable Development Goals, innovative solutions are necessary in an era of ever increasing urbanization.
In celebration of World Habitat Day 2015, cities around the world will celebrate by organizing events addressing Public Spaces for All exploring it through the lens of Sustainable Development Goal 11, Making Cities and Human Settlements, Safe, Resilient and Sustainable and Target 7 on Public Spaces. The objectives are:
1) To show the relationship between public space design and sustainable urbanization
2) To propose innovations and best practices in the area of public space design
3) To highlight the need for policies as well as innovative, replicable solutions, ideas, concepts, and approaches that can be used in different contexts for public space design; and,
4) To identify design ideas, concepts and approaches that are replicable.
Event in New York
This event will bring together high-level experts and representatives from national and local governments, non-governmental organizations, institutes, foundations and industry, who will present case studies from around the world on public spaces.
Please join us on this day to raise awareness about key human settlement and urbanization issues.
For security reasons, all participants must be pre-registered and on the official RSVP list.
Please RSVP to EVENT BRITE:
http://www.eventbrite.com/e/world-habitat-day-2015-tickets-18073760103
Participants without a valid UN Grounds Pass may enter the UN through the Visitor's Entrance at
East 46th Street & 1st Avenue with a valid picture ID
* Click here to download the agenda.