Faced with the imminent reform of the Planning Code of the City of Buenos Aires and other planning tools, the Campaign for a Charter of Right to the City convenes next Monday August 1, the launch and first meeting of the Campaign, to be held in the San Martin Buenos Aires Legislature lounge located on the street Peru 160 (main floor).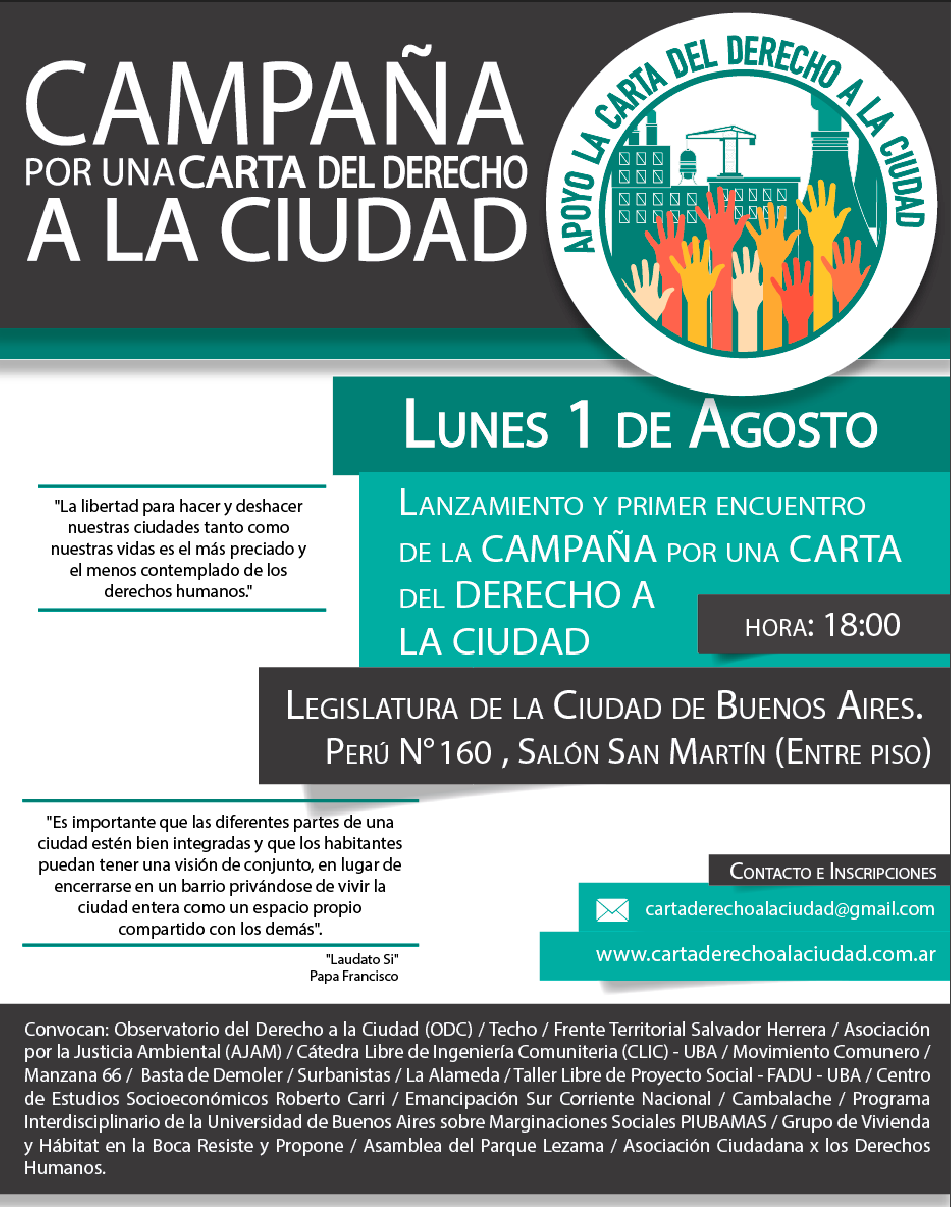 Everyone is invited to participate in this meeting and join the campaign to neighbors, students, intellectuals, artists, unions, professional, political parties, universities, professorships, social and cultural references, assemblies, territorial movements and social organizations for participatory drafting of a letter to be elevated to the Legislature Porteña.
This letter will contain the principles, rights and instruments that propose to reach a city for all, to devise an alternative way to town. The aim of the campaign is that among all those who want a different city structured and planned under the paradigm of the right to the city, we organize and discuss a Charter of Right to the City to demand that future planning instruments are suited to the principles and rights that collectively consensuemos in this Charter.
The initiative launched more than 20 assemblies and organizations [1] proposes :, foster democratic participation in decisions about our city, preventing further loss of urban rights, address the socio-neglected urban needs, combat displacement by rising housing the m2 and rents, and actions against the heavy concentration of land ownership in the city, at the hands of a few business groups and developers, etc.
The campaign has broad support from civil organizations, such as the Right to the City, Roof (aimed at combating poverty and exclusion in Latin America), the Front Territorial Salvador Herrera (undertaken the development of the Villas City Buenos Aires), communes and residents of the city of Buenos Aires, university chairs, intellectuals and artists.
For more information, please access the website of the campaign.
REGISTRATION to events and to join the Campaign