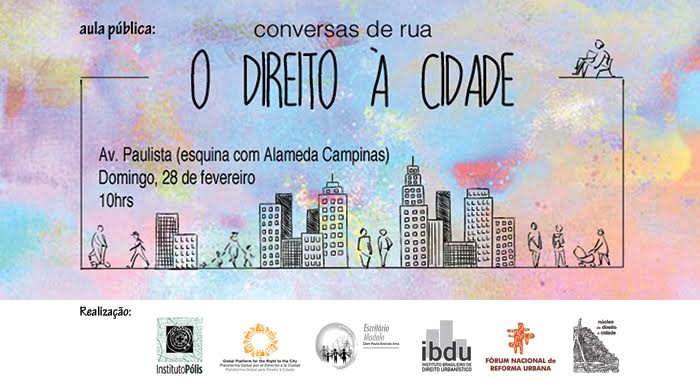 The Paulista Avenue, in São Paulo City, Brazil, will host the Public Class – Urban Talk:  The Right to the City, on this upcomingSunday, 28. The aim is to create a space for dialogue, appropriation of public space and cultural expression. The event is held by the Polis Institute in partnership with the Global Platform for the Right to the City, Model Office "Dom Paulo Evaristo Arns" of Pontifical Catholic University of São Paulo, Brazilian Institute of Urban Law (IBDU), the National Forum for Urban Reform (FNRU) and the Right to the City Center of University of São Paulo Law School.
Confirm your presence on Facebook
The public class will discuss four guiding principles: Culture; Citizenship; Land and Housing; and Public Space and Mobility. The talk will be stimulated by members of social organizations and movements.  Also, there will be artistic performances by MC Mano Réu and the Identidade em Movimento B-boy  and B-girls Crew, dancer Danna Lisboa and Ciclistas Bonequeiros.
More informations here: http://polis.org.br/noticias/aula-publica-na-paulista-conversas-de-rua-o-direito-a-cidade/