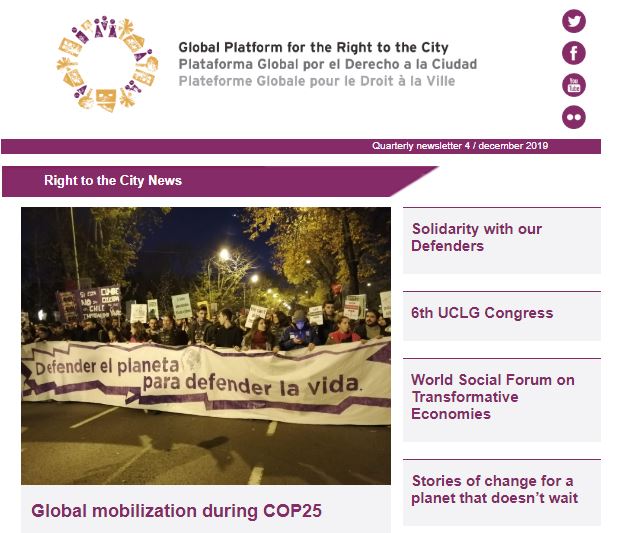 We have just released the December issue of our quarterly newsletter. There you can find a summary of the most important activities and campaigns we have carried out over the last three months, as well as upcoming events and other information of interest. At this issue, you can find information on:
The participation of the GPR2C during COP25
The results of the Artistic Challenge: Right to the City by youth
Our campaign in solidarity with habitat-related human rights defenders
The UCLG Congress in Durban
Opinion articles on the context of COP25
Open call for participation in the World Social Forum on Transforming Economies
You can access the newsletter through this link or click here to subscribe to future issues.
The idea behind these newsletters is that they function as a collaborative space, where the whole of the network can share relevant information. We invite you to contribute to the future issues of our newsletter, sending information on past or future activities, opinion articles or any other kind of information you would like to share. The newsletter is published quarterly, usually at the end of March, June, September and December. If you are interested in the opportunity, write to us at: communicationteam@hic-net.org
As the year comes to a close, we would like to thank all of you for participating in our collective effort in the fight for just, inclusive and sustainable cities. Let's continue to build a strong network over the next year and many more to come!