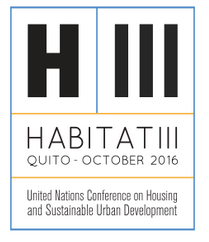 By GPR2C Team
The organizations that would like to send representatives to the PrepCom 3 and Habitat 3 can apply for a special accreditation until May 2nd. Scheduled prior to April 1st, the deadline to PrepCom 3 was extended to the same date.
GPR2C holds its European regional meeting in Barcelona
GPR2C Statement on core messages for Habitat III
Deadline of Call for Proposals — Extended to May 2
This kind of register is focused on organizations that are not currently accredited via ECOSOC (The United Nations Economic and Social Council), Habitat conference, or the U.N. Sustainable Development Summit.
The third session of the Preparatory Committee of the third United Nations Conference on Housing and Sustainable Urban Development (Habitat III) will be held in Surabaya, Indonesia, from Monday, 25 July to Wednesday, 27 July 2016. In October, it is the time of Habitat III, that occurs in Quito, Ecuador, from 17th- 20th.
According to Habitat 3 Secretariat, this special accreditation will be valid solely for the Conference and its preparatory process.
The register is available here.