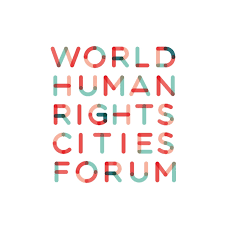 The World Human Rights Cities Forum (WHRCF), marking its 10th anniversary this year, will be held under the theme of "The Future of Human Rights Cities: Local Memories and Global Sharing" from October 7 to 10 at the Kim Daejung Convention Center in Gwangju.
※ This article was originally published in Gwangju News September 2020 issue.
The 10th Forum will be further enriched by the presence of two organizations: the UN OHCHR and UNESCO as co-hosts of the forum for the first time.
The 10th WHRCF is paying special attention to the temporal arrangement of the human rights cities with reflection on the history of human rights at the local level being and being shared on the global level. It will assess the present while planning for the future of human rights cities – all within the flow of time – as an effective way to enhance the sustainability of human rights cities. Therefore, it will be a place to discuss how we can inherit and incorporate historical memories and legacies of the past into a future human rights city through human rights education as a modern form of remembrance.
In the plenary sessions, the mayors of human rights city will discuss ways to broaden the Human Right City movement and share the human rights policies implemented by local governments to mitigate the COVID-19 crisis as well as to talk about further challenges. In addition to thematic sessions, examining practical tasks to promote human rights for all citizens including the elderly, women, the disabled, and other minority groups; networking sessions; and special sessions will be scheduled to discuss and find solutions for ways to deal with human rights issues and to expand and cooperate within the human rights cities network. There will also be a workshop to discuss overall management of the Gwangju International Human Rights Training Center and the Blended Learning Course on Human Right Cities for local governments of the Asia-Pacific region. Citizens can also participate in the special events and side events such as the Human Rights Discussion Groups and the Dark Tour via VR (virtual reality).
For more information go here
---
As in previous years, the GPR2C will be present at WHRCF 2020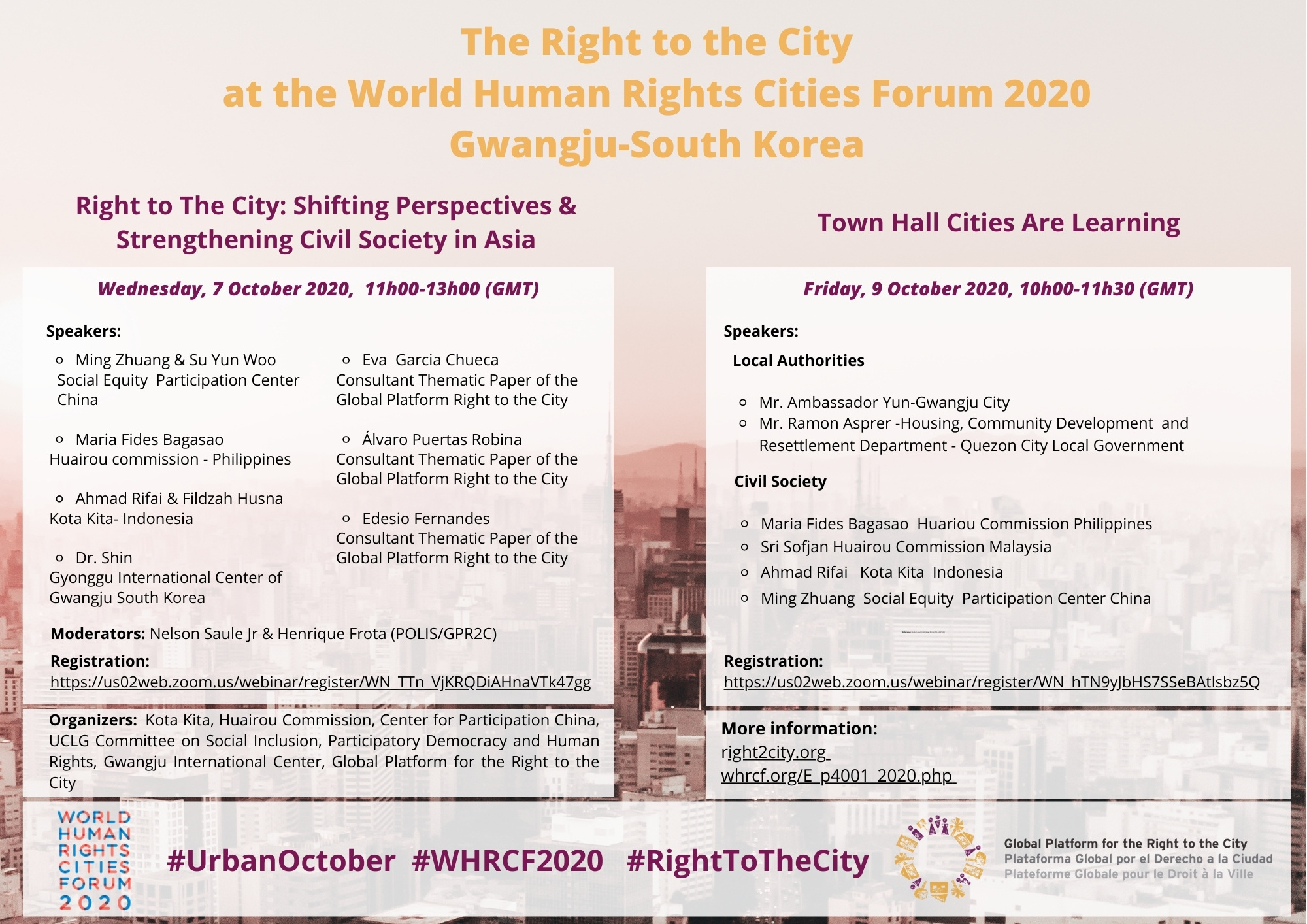 Wednesday 07 October, 11h GMT / 20h Korea- The Right to the City in Asia: focused on the results of an ongoing research led by the GPR2C about the implementation of the Right to the city in the Continent and the upcoming research led by the GPR2C on three components of the Right to the City. Register here
Friday 09 October, 10hGMT / 19.00 Korea: Town Hall with local authorities on the Right to the City Register here
UCLG-CISDP is also present at WHRCF
They will organize a series of panels with local authorities and also with the OHCHR and the Special Rapporteur on the Right to Adequate Housing. They will explore how local Governments enshrined Human Rights approaches in their COVID-19 responses.
Register here