October 2021 marked the five years of the adoption of the UN New Urban Agenda by 167 countries. Although with several limitations, its contents highlight the relevance of the Right to the City principles and proposals to reclaim urban spaces as collective places for people, by people, with a commitment to a rights-based approach that prioritizes the social function of the city instead of profits. It is the first document of its kind to enshrine the Right to the City approach and can be considered to a large extent an achievement of the mobilization and trajectory of various actors, under a strong leadership of grassroots movements and civil society mobilization.
As a part of the formal mechanism of follow-up of the implementation of the New Urban Agenda, on April 28th a High-Level meeting will be organized in the United Nations Headquarters (New York) under the framework of the United Nations General Assembly. The UN Secretary-General's Quadrennial Report on the Implementation of the New Urban Agenda will be presented and form the basis for discussion. The report is available here.
For information on the key messages of the PGDC and its members to the report, click here.
"The Right to the City as an accelerator for the implementation of the New Urban Agenda"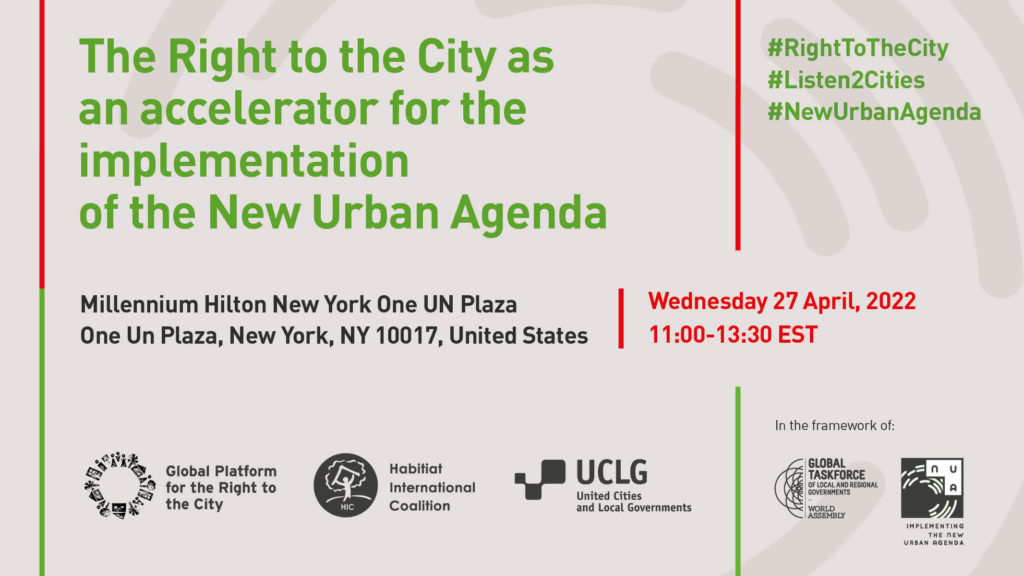 Under the framework of the High Level Meeting, the Global Platform for the Right to the City, Habitat International Coalition and United Cities and Local Governments are organizing a side event to discuss perspectives and challenges for advancing the Right to the City under the efforts for implementing the New Urban Agenda and beyond. The event will take place in person on April 27th, 11h-13h (NYC time), Millennium Hilton New York One UN Plaza (One Un Plaza, New York, NY 10017, United States). Registration is not needed).
The event will seek to build upon the mobilization of civil society organizations and local governments that succeeded in securing the inclusion of the Right to the City in the final text in 2016, evaluating and discussing how the last five years have impacted the Right to the City movement and what strategies can be put forward to further advance on securing and implementing the Right to the City in the present and future.
Analysis and debates are expected to address pressuring concerns of the present moment, marked by inertia around NUA implementation, setbacks in regulatory and institutional frameworks, and the convergence of the crises linked to the increasing socio-spatial inequalities, the financialization of key goods and services and the climate emergency.
Programme
Setting the scene: The Right to the City, the New Urban Agenda and alliance between LRGs and Civil society

Emilia Saiz, Secretary General, UCLG
Lorena Zárate, Global Platform for the Right to the City

Opening remarks

Luis Donaldo Colosio, Mayor of Monterrey

Panel one: advancing on the Right to the City to face current crises
Moderation: Local and regional government representative
Robert Robinson, International Alliance of Inhabitants – North America (6')
Rohey Malick Lowe, Mayor of Banjul
Fernando Gray, Mayor of Esteban Echeverria
Open floor

Street vendors project
Huairou Commission (TBC)

Panel two: Strategies for advancing on the convergence between civil society and LRGs for accelerating the Right to the City through the localization of Global Agendas
Moderation: Nelson Saule Jr., Global Platform for the Right to the City
Yousef Shawarbeh, Mayor of Amman
Michael Cohen, The New School
Luisa Bravo, The Journal of Public Space
Open floor

Thomas George, Global Lead for Urban, UNICEF
Katherine Kline, General Assembly of Partners – Older Persons Group

Closing – Adriana Allen, Habitat International Coalition