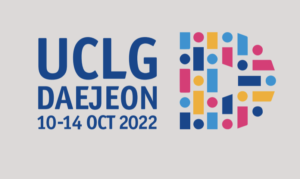 Held every three years, the UCLG World Summit and Congress builds on the century-old origins of UCLG as a movement driven by peace, solidarity and city diplomacy, and the pledge of the local and regional governments' constituency around the world to safeguard the dreams and aspirations of their communities. The 7th UCLG Congress will be held from 10 to 14 October in Daejeon, South Korea.
As in previous years, the Global Platform for the Right to the City and its members will be participating actively at the congress, leading and joining a series of activities. Below, you may find some highlights of this participation. Here, you can consult the full programme of the congress. 
Town Hall process
The UCLG Town Hall is the space for dialogue and interaction between different internationally organized civil society constituencies and the political leadership of the local and regional governments constituency to jointly define global policies. The subjects of the Town Hall are directly linked to UCLG's Pact for the Future and its three axes (People, Planet and Government) and are the following: Caring systems; Climate and Culture; Global Commons and Trust in Government.
Under this framework, the GPR2C has been leading the discussion linked to the  Commons Town Hall, formed by a broad range of organizations and networks. Following the participatory methodology for the Town Halls, this working group has met multiple times since January 2022; resulting in the drafting of a Policy Paper on the Global Commons, prepared to inform discussions during and beyond the 7th Congress of UCLG. You can read more about the Commons Town Hall and the policy paper here.
The session to exchange on reflections and recommendations regarding the Commons Town Hall will take place on Thursday October 13th from 12h – 13:30h local time. The session will seek to contribute to:
Articulating and deepening shared narratives on the commons from an intersectional,multi-sectorial and trans-scalar perspective;

Broadening collaborations and partnerships across sectors and regions in order to foster the commons at material, symbolic and political level;

Leveraging the voice and role of local communities in order to strengthen integrated and co-created public policies for more just, democratic and sustainable territories
Other sessions linked to the Town Hall process include:
Gender Caucus:

October 121h, 10:00-11:00 KST; October 14th, 9:00-10:00 KST 

Accessibility Caucus:

October 11th, 12:00-13:00 KST 

Youth Caucus:

October 11th, 14:00-15:00 KST 

Caring Systems Town Hall:

October 12th, 11:00-12:30 KST 

Climate and Culture Town Hall::

October 13th, 10:00-11:30 KST 

Trust and Government Town Hall:

October 14th, 12:00-13:30 KST 
All sessions will be in-person only and will count with interpretation in English, French and Spanish.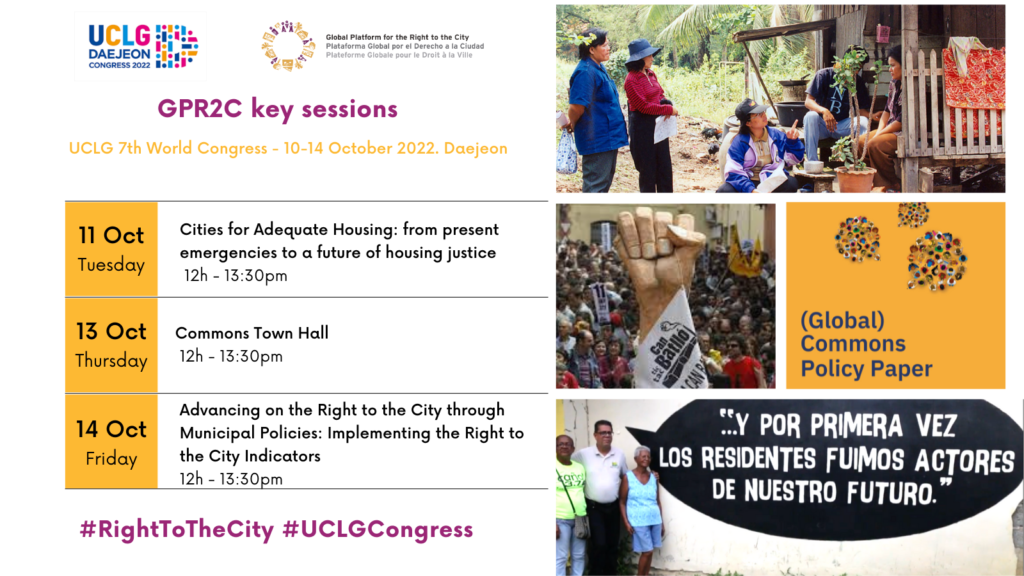 Beyond the Town Hall Process, the GPR2C will be leading and participating in a series of sessions, listed below:
Advancing on the Right to the City through Municipal Policies: Implementing the Right to the City Indicators

–

Friday, October 14th,

12:30h – 13:30h KST – in-person only
Let's collectively discuss how the Right to the City indicators can be a tool for the follow-up of innovative municipal policies that contribute with the implementation of the Right to the City and the localization of global agendas.
Cities for Adequate Housing: from present emergencies to a future of housing justice

– Tuesday, October 11th, 12h – 13:30pm

KST – in-person only
As the emergency housing policies of the COVID-19 pandemic come to an end, it is imperative to understand what enabled their implementation, how they could be sustained and the key elements, values and practices required for a future agenda of local policies for housing justice. Were the bold responses adopted only possible due to the expanded competences conferred to LRGs by emergency declarations? How could these be reinforced and sustained as a basis for a joint, local-level strategy to face a global, yet localized, housing emergency?
People plenary

(reporting from Commons Town Hall)– Thursday, October 13th,17:30h-19h KST, Hybrid
Local and regional governments need to be at the forefront of a new way of doing politics – one that, by building on feminist values, contributes to fostering social justice and gender equality as the indispensable building blocks of any just, sustainable, and thriving society. This plenary session will foster a dialogue between representatives of local and regional governments and other actors, including national and international representatives and partners, on the Pact for the Future of People as a driver to accelerate the development of caring societies based on feminism and local service provision, i.e. municipal feminism, health beyond healthcare, human rights, migration, peacebuilding and city diplomacy, or culture.
The Future of the New Urban Agenda: Towards an interurban future

– Special Envoy to the New Urban Agenda (NUA) – Friday, October 14th, 10h-11:30h KST;  in-person only
The New Urban Agenda is a critical cornerstone and accelerator for the achievement of the universal development agendas. More than five years on since its adoption, commitment by national governments must be strengthened and the role of local and regional governments in its achievement must be recognized. This session will facilitate a dialogue between key actors involved in the mobilization around the New Urban Agenda to discuss how joint strategies can be developed and strengthened, taking into account the key role that intermediary cities play in the future of the global agendas.
The GOLD VI Pathways to Urban and Territorial Equality: Taking the commitment forward

– Friday, October 14th, 10h-11:30h KST;  in-person only
Inequalities are growing, undermining our political systems, social cohesion, peace and the future of current and future generations. For UCLG, allowing inequalities to grow is no longer an option: local and regional governments are responding to how inequalities manifest in their cities and territories on a daily basis. Based on this mandate, the GOLD VI Report proposes six "pathways to equality" to articulate strong local alliances between LRGs, civil society and other local actors to create transformative change: Commoning, Caring, Connecting, Renaturing, Prospering and Democratizing.
Other sessions of note
Below you can find a list of other sessions of note and organized by GPR2C members and allies. More details can be found at the official programme. 
Tuesday, October 11th
Governance and Accessibility: Integrating accessibility in organizational practices towards leaving no one behind

– World Blind Union – 10h-11:30h, KST; in-person only
Cities for All Training Program: Capacity Building with Practitioners

– World Enabled – 14h-15:30h KST;  in-person only
Wednesday, October 12th
The future of human rights

– UCLG Committee on Social Inclusion, Participatory Democracy and Human Rights (UCLG CSIPDHR) – 11h-12:30h, KST;  in-person only
The Future of Feminist Municipalism: Putting Care and the Sustainability of Life at the Center of Policy and Action

– UCLG Women -13h-14:30h; KST;  in-person only
Towards Caring Territories against Gender-based Violence

– International Observatory on violence against women, Seine-Saint Denis and UCLG Committee on Social Inclusion, Participatory Democracy and Human Rights (UCLG CSIPDHR) – 15h-16:30h, KST;  in-person only
Thursday, October 13th
Declaring Climate Emergency at the Local Level: a Global Dialogue on its purpose, process and impact

–  ICLEI – 10h-11h, KST;  in-person only
10, 100,1000 Human Rights Cities and Territories by 2030

– UCLG Committee on Social Inclusion, Participatory Democracy and Human Rights  – 11:30h-12:30h, KST;  in-person only
Through Children's Eyes: Incorporating children's perspective into metropolitan strategies

– Metropolis – 14h – 15:30h, KST;  in-person only
General Assembly

(reporting from Caring Systems Town Hall) – 14:30h-17:30h KST, Hybrid
Planet plenary

(reporting from Climate and Culture Town Hall) – 17:30h-19h KST, Hybrid
Friday, October 14th
The Future of Local Democracy: Innovative practices of participatory democracy

– International Observatory on Participatory Democracy (IOPD) – 10h-11:30h, KST;  in-person only
Government plenary

(reporting from Trust in Government Town Hall) – 13:30h-15h KST, Hybrid

World Council

– 15h-18h KST, Hybrid