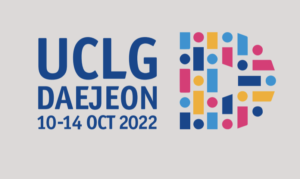 Held every three years, the UCLG World Summit and Congress builds on the century-old origins of UCLG as a movement driven by peace, solidarity and city diplomacy, and the pledge of the local and regional governments' constituency around the world to safeguard the dreams and aspirations of their communities.
Aware that failing future generations is not an option, the municipal movement will gather under the motto "Local and Regional Governments Breaking Through as One", bringing the local leadership and international actors together to meet a scenario of breakthrough.
We are pleased to announce that online registration is now open for the World Summit of Local and Regional Leaders – 7th UCLG Congress, which will be held from 10 to 14 October in Daejeon, South Korea.
More info about our World Summit of Local and Regional Leaders please visit the UCLG Congress website here.
GPR2C participation in the 7th UCLG Congress
The Global Platform for the Right to the City is in charge of facilitating the Commons Town Hall working group, formed by a broad range of organizations and networks, including: the Cities Coalition for Digital Rights, Open Society Foundations, the African Center for the Constructive Resolution of Disputes (ACCORD), the United Nations Children's Fund (UNICEF) and the Food and Agriculture Organization (FAO); as well as representatives from three (cross-cutting) Caucuses: youth ( Children and Youth Major Group), Feminist/women (the Huairou Commission) and Accessibility (World Enabled led, the General Assembly of Partners Older Persons Constituent Group and the World Blind Union). Participants at the multiple working sessions included: Bartlett Development Planning Unit (DPU), Food First Information and Action Network (FIAN), Habitat International Coalition, International Institute for Environment and Development (IIED), Observatori DESC (Barcelona, Spain), Women in Informal Employment Globalizing and Organizing (WIEGO).
Following the participatory methodology for the Town Halls, this working group is drafting the Policy Paper on the Global Commons, prepared to inform discussions during and beyond the 7th Congress of UCLG.
GPR2C Programme
Events co-organized by the GPR2C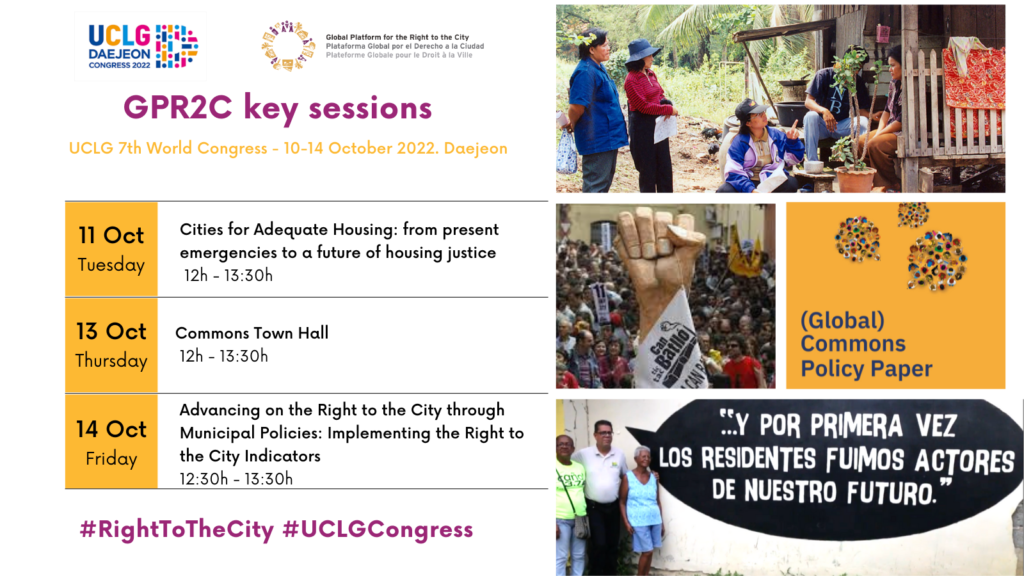 Events in which the GPR2C will participate
Tuesday, October 11th
Learning

Forum – all day long

Learning marketplace – 11:30h-13h (Presentation of Thematic papers, indicators and R2C Course. HIC will do a presentation on co-learning)

Cities for Adequate Housing: from present emergencies to a future of housing justice – UCLG Committee on Social Inclusion, Participatory Democracy and Human Rights, HIC, GPR2C, IIED

–

12h – 13:30pm – Concept note
Feminism caucus

– 10h-11h

Governance and Accessibility: Integrating accessibility in organizational practices towards leaving no one behind – World Blind Union – 10h-11:30h

Accessibility caucus

– 12h-13h

Youth caucus

– 14h-15h

Cities for All Training Program: Capacity Building with Practitioners – World Enabled – 14h-15:30h
Wednesday, October 12th
Caring Systems Town Hall – 11h-12:30h

The

future of human rights – UCLG Committee on Social Inclusion, Participatory Democracy and Human Rights (UCLG CSIPDHR) – 11h-12:30h
Research Forum – 11h-16:30h

The Research Agenda from the perspective of academia and partners: boosting research impact and renewing partnerships with local governments – 12:20-13:15
The

Future of Feminist Municipalism: Putting Care and the Sustainability of Life at the Center of Policy and Action – UCLG Women -13h-14:30h

Towards

Caring Territories against Gender-based Violence – International Observatory on violence against women, Seine-Saint Denis and UCLG Committee on Social Inclusion, Participatory Democracy and Human Rights (UCLG CSIPDHR) – 15h-16:30h

People plenary – 17:30h-19h
Thursday, October 13th
Feminism caucus

– 9h-9:45h

Culture

and Climate Town Hall – 10h – 11:30h
Declaring Climate Emergency at the Local Level: a Global Dialogue on its purpose, process and impact –  ICLEI – 10h-11h
1

0, 100,1000 Human Rights Cities and Territories by 2030

– UCLG Committee on Social Inclusion, Participatory Democracy and Human Rights 

–

11:30h-12:30h
Commons Town Hall – 12h – 13:30h
Through Children's Eyes: Incorporating children's perspective into metropolitan strategies – Metropolis – 14h – 15:30h
General Assembly – 14:30h-17:30h (reporting from Caring Systems Town Hall)
Annual meeting of the UCLG-CSIPDHR

By invitation only Meeting with the executive secretariat, the co-presidency, members and partners of the UCLG Committee on Social Inclusion, Participatory Democracy and Human Rights on the work plan of the Committee for 2023. 16h-17h
Planet plenary – 17:30h-19h –

(reporting from Climate and Culture Town Hall)
Friday, October 14th
The

Future of the New Urban Agenda: Towards an interurban future – Special Envoy to the New Urban Agenda (NUA) – 10h-11:30h

The

Future of Local Democracy: Innovative practices of participatory democracy – International Observatory on Participatory Democracy (IOPD) – 10h-11:30h

The GOLD VI Pathways to Urban and Territorial Equality: Taking the commitment forward- 10h-11:30h – Lorena will present the commoning pathway
Trust and Government Town Hall – 12h – 13:30h
Advancing on the Right to the City through Municipal Policies: Implementing the Right to the City Indicators- 12:30h – 13:30h

Government plenary – 13:30h-15h –

(reporting from Trust in Government Town Hall)

World C

ouncil – 15h-18h