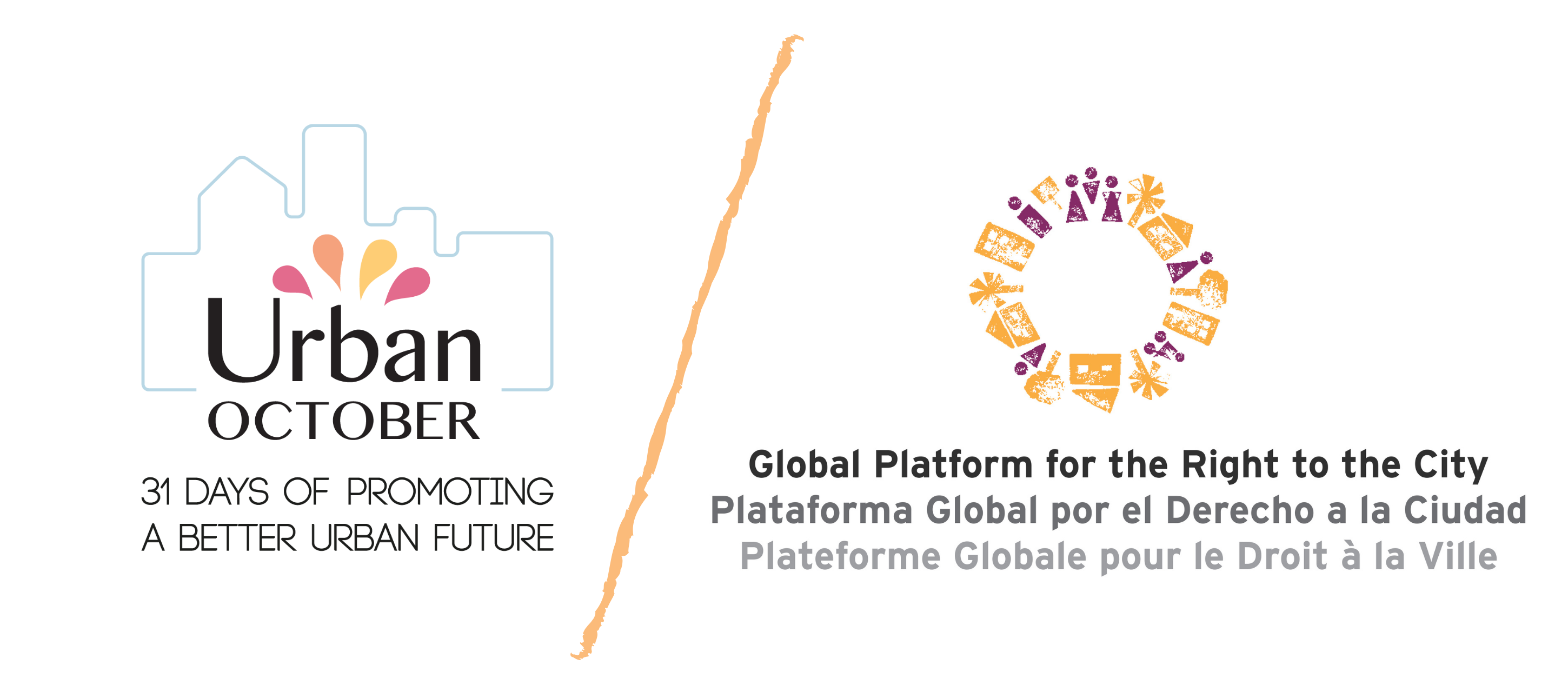 Every year, the Global Platform for the Right to the City (GPR2C) celebrates Urban October, an opportunity to raise our voices about our struggles and initiatives and to join forces for a better world. In 2021, Urban October will kick-off on Monday, 4 October with World Habitat Day and end on Sunday, 31 October with World Day for the Right to the City. On this occasion, the GPR2C will launch a collective campaign to publish the thematic paper about the Right to the City and the COVID-19 pandemic, written by our consultant Eva Garcia Chueca, from CIDOB and supported by a Reference Group formed by different GPR2C members. More details will be shared soon.

Check out the collective campaign that we have prepared on "The impact of Covid-19 on the Right to the City"!
Furthermore, as always, the GPR2C is joining and supporting all the GPR2C members and allies initiatives during Urban October under the right to the city umbrella. Here you will find a collection of them:
CAMPAIGNS
CALENDAR
October 4th (World Habitat Day)
October 4th to 8th
October 5th
October 6th-10th
11th World Human Rights Cities Forum in Gwangju, South Korea | Organized by Gwangju International Center, UCLG Committee on Human Rights & Raoul Wallenberg Institute of Human Rights:
October 11th to 12th
October 11th to 15th
October 13th
October 14th
October 16th (World Food Day)
Launchment of a Social Media Campaign on SSE and the SDGs | Organized by RIPPES and URGENCI | More information soon
October 18th (dialogue series to be continued on November 4th and 17th, and December 1st)

October 20th to 22nd
October 21st
Webinar "Land & Financing for Community-led Housing : learning from successful projects". With Andrea Wieland, Mehr als Wohnen (Switzerland), Ander Zabala Gómez, Sostre Civic (Spain) & Marina Kolovou, Pan Thazin (Myanmar). | ▶ Zoom link – 16h CET  21h ICT  (more time zones here) | Organised by CoHabitat Network & urbaMonde.
October 25th
October 25th to 29th
October 26th to 28th
October 27th
October 28th (on the occasion of the World Day for the Right to the City)
October 31st (World Day for the Right to the City)
Let's join forces to keep advancing the Right to the City for everyone, everywhere!