Africa has some of the world's most unequal cities[3]. Informal settlements in African cities, and the struggles that are fought in their defense, are evidence of deep-rooted exclusion[4]. They have inherited colonial segregated planning laws that are socio-economically exclusive, resulting in cement cities and slums. In many African former colonial countries, a struggle for a right to the city formed an integral part of the fight against colonialism and apartheid[5]. In the decades since independence, few African states have been able to develop and implement reforms governing urban development to effectively improve these characteristics of their cities.
Post-colonial African governments have tried to limit the number of people living in cities and the working opportunities available to new urban migrants by slowing down or reversing rural-to-urban migration[6]. Governments have tended to adopt anti-urban policies, fearing the growth of cities and the potential for militancy in the urban under-employed. Where urban laws or municipal bylaws are still in place, they effectively exclude the poor from the benefits of living in a city[7]. "Persistently high levels of planned segregation in African cities underpin this inequality, with increasingly the gating of commercially produced residential developments. With no formal viable alternative, poor households remake the planned city from below through 'informal' means"[8]. Cities' lack of gender responsive public services and urban planning often further marginalize women and girls and exacerbate inequality. In Sub-Saharan Africa a 'youth bulge' demonstrates a demographic shift meaning the population is younger. Unable to acquire affordable land legally and find formal employment the poor have created parallel land markets and built urban livelihoods strategies through street trading and the provision of basic services that the State fails to deliver.
Many African cities are still dealing with conflict, urban violence and post-conflict migration. Many urban displaced persons are stigmatised by association with the conflicts they leave behind, and host populations may view them as precursors of criminality. Newly urbanised citizens and displaced populations face many of the same social and economic challenges. Non-registered migrants and refugees often face additional difficulty in terms of their legal right to remain, or to reside in a location of their choosing, and they frequently lack personal documentation needed to access support and services[9].
The recent adoption of the slogan 'Right to the City', embedded in the New Urban Agenda (NUA), unanimously agreed to at the Habitat III Conference in Quito in 2016, committed all African countries have to "promote institutional, legal and financial mechanisms in cities and human settlements to broaden inclusive platforms, in line with national policies that allow meaningful participation in decision-making, planning and follow-up processes for all" (paragraph 41), to establish legal and policy frameworks, based on principles of equality and non-discrimination, ensuring appropriate fiscal, political and administrative decentralisation based on the principle of subsidiarity" (paragraph 89). However the NUA obliges signatories to integrate and upgrade informal settlements to improved levels of accessibility, safety, quality, inclusively and affordability[10]. However informal settlements are still viewed by the UN and governments as problems[11] that must be eradicated, rather than as Turner saw them, as potentially a part of the solution[12].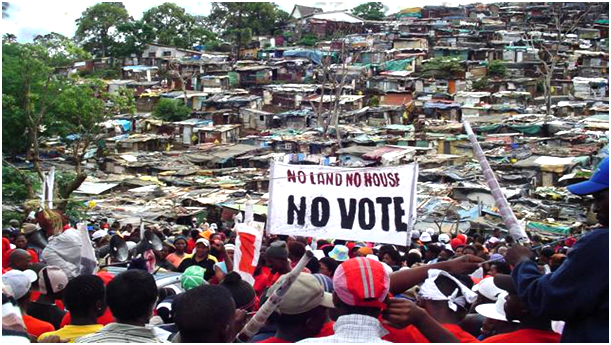 Abahlali baseMjondolo shack dwellers movement in Durban[13]
Urban social movements are emerging however. In a growing number of African countries the shack dwellers' movement invokes Lefebvre's ideas of the Right to the City while embarking on rights-based action in its urban struggles. Social movements have adopted the Right to the City as their slogan for restating urban development goals, which are still very much key issues such as access to urban resources, water, housing, land, urban transport and a liveable environment. Progress has been made in local municipalities in some countries where the campaign for the Right to the City has led to greater democratisation and decentralisation and where the question of local citizenship has gained traction[14].
It has been argued that Lefebvre saw a potential with a political opening, to incorporate informal settlements through the Right to the City[15]. In a number of countries inhabitants of informal settlements, supported by, researchers and practitioners specialised in urban issues have advocated for Right to the City public policies by specifically promoting urban rights through co-production of action research. Data, co-produced by community enumerators, rigorously geo-referenced, mapped and validated by local authorities has been used as a tool in the campaign for housing and securing tenure rights[16].
The vision of a transformative society is more relevant now than ever before in Africa as fundamental human rights come under threat and a Pan-African revolution slowly emerges that needs to take into account the diversity of the continent and the deeply entrenched power relations; the dynamics of peri-urban areas and informal settlements; rural economies and rural-urban migration; as well as the political and religious nuances which are closely linked to conflicts over the control and management of resources. Cities have the potential to reduce inequalities, balance individual and collective rights, and promote inclusive and active citizenship; ultimately contributing to sustainable development. The African Governance Architecture (AGA) of the Africa Union can have the potential to change the narrative of Africa's cities by enhancing the accountability of State actors to the citizenry. Urban civil society can mobilize and organize to promote and safeguard the right to safe, healthy and inclusive cities.  By recognizing the right to participation and advocating for an empowered and informed citizenry, cities can redefine urban spaces, reduce inequalities, and ensure the democratic provision and management of public services and resources for the benefit of all.
[1] Allan Cain is the Director of Development Workshop in Angola and member of Habitat International Coalition.
[2] Agnes Midi is the International Project Manager for ActionAid in Kenya.
[3] UN-Habitat (2010) Urban divide: unequal cities. press release, Nairobi: UNHabitat.
[4] Marie Huchzermeyer (2014) Humanism, creativity and rights: invoking Henri Lefebvre's right to the city in the tension  presented by informal settlements in South Africa today. TRANSFORMATION 85 (2014) ISSN 0258-7696
[5] Ibid p 67
[6] Paul Collier & Antony Venables (2017)  Urbanisation in developing economies, pp 355-372, Oxford Review of Economic Policy, Vol.33, No.3 2017.
[7] Stephen Berrisford & Patrick McAuslan (2017) Reforming Urban Laws in Africa, Global Land Tool Network, Urban LandMark, UN-Habitat & Cities Alliance.
[8] Marie Huchzermeyer (2014)  p 65
[9] International Rescue Committee (2017) The Right to the City for Urban Displaced
[10] Marie Huchzermeyer (2017) Informal settlements and shantytowns as differential space, Chapter XX, p3, Routledge Handbook of Henri Lefebvre, the City and Urban Society, Routledge, London
[11] The United Nations (1997) defines informal settlements as unplanned and illegal occupation of land, not complying with building and planning regulations.
[12] Turner, J.F.C. (1968) 'Uncontrolled urban settlements: problems and policies', International Social Development Review, 1 107-130.
[13] Richard Pithouse (2010) http://base.d-p-h.info/en/fiches/dph/fiche-dph-8418.html
[14] Marianne Morange & Amandine Spire (2015) A Right to the City in the Global South?
[15] Marie Huchzermeyer (2017) p.16
[16] African Urban Research Initiative (2017) https://www.africancentreforcities.net/programme/knowledge-networks/african-urban-research-initiative/