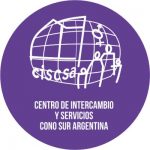 Description: Centro de Intercambios y Servicios Cono Sur, Argentina (CISCSA) is a founding member of the HIC Women and Habitat Network, and a member of HIC since its inception. The NGO has been working for more than three decades on housing and habitat rights issues. Specialized in gender issues, it contributes with knowledge production, empowerment of women in neighborhoods and communities, articulation with local governments, and feminist political advocacy.
CISCSA is co-founder of the Women and Habitat Network and of the Feminist Articulation of Marcosur.
Mission: Political advocacy, knowledge production, capacity building and training, empowerment of neighborhood and community organizations, in the fields of right to housing, to the habitat, and to the city from the perspective of gender and feminism.
Outreach: International/National/Regional/Local
Right to the City Components:
1. Non Discrimination
2. Gender Equality
3. Inclusive Citizenship
6. Quality Public Spaces and Services
8. Sustainable Cities with inclusive rural-urban linkages
Working Groups:
Advocacy
Research and Training
Gender
Web page: www.redmujer.org.ar & www.ciscsa.org.ar