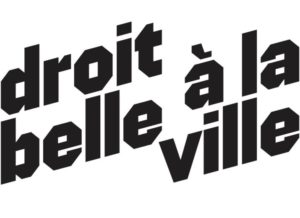 Description: Collectif Droit à la Belle Ville (DALBV) – Collective of resistance and urban popular education for the Right to the City in the Belleville district of Paris and elsewhere in the world, to find alternatives to gentrification, against speculation, expensive rents, evictions and tourist rental platforms.
The people who formed the DALBV collective in 2015 and who have joined it since, have two things in common:
They live in the "Greater Belleville" district: they sleep there, educate their children, sometimes work there, build social relations and solidarity networks, have fun and campaign for a fairer city with their friends.es bellevillois.es
They think and act together so that the city is for everyone: a city that welcomes; a city where those who settle there find a decent place to reinvent it and build their lives; a city whose current inhabitants are not expelled. A city in which the current residents are not evicted from their neighbourhoods because of high rents, real estate speculation and lack of social housing, under the assumed or unconscious effect of wealthier residents and Airbnb tourists, opportunistic landlords and cynical promoters, insatiable banks and urban policies that prefer World Cups to the interests of the people who shape the beautiful city.
Mission: The members of the collective work on the basis of urban popular education, i.e. they organize :
A shared understanding of the urban transformations taking place, based on individual experiences and activist and academic knowledge about Paris and other cities.
The solidarity resistance of people who are poorly housed, evicted, exploited, discriminated against and repressed in the Belleville district of Paris and elsewhere in the world.
The autonomous construction of a beautiful city for everyone, because we are entitled to it.
Outreach: International/ National/ Local
Right to the City Components:
1. Non Discrimination

3. Inclusive Citizenship

4. Political Participation

5. Social Function

6. Quality Public Spaces and Services

7. Diverse and Inclusive Economies
Woking groups:
Advocacy

Research and training

Communication

Gender

Regional
Website: https://belvil.fr/assemblies/dalbv