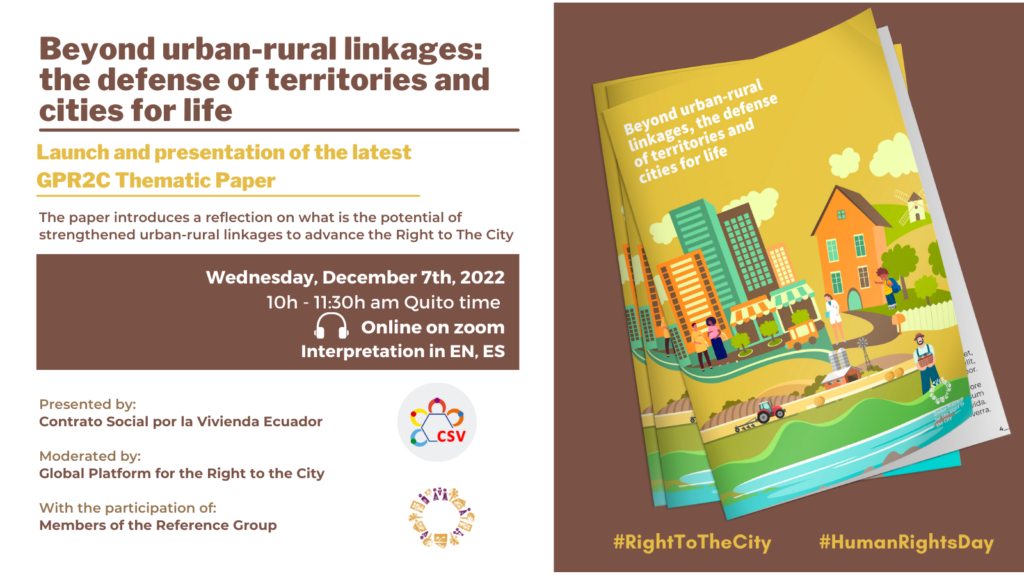 Since 2020, the Global Platform for the Right to the City (GPR2C)has been leading a collective learning process that has culminated in the development of a series of seven thematic papers dedicated to deepening some of the Right to the City components as well as key concepts related to it and relevant at the present. As 2022 comes to an end, we are happy to invite you to participate in the launch and presentation of the final paper of the series, dedicated to the Right to the City and urban-rural linkages.
The presentation will take place on Wednesday, December 7th from 10h to 11:30h am Quito time (check your local time here). The paper will be presented by the team from Contrato Social por la Vivienda Ecuador responsible for drafting the publication being followed by a round of comments and reactions by representatives of organizations that were part of the drafting process as members of its reference group as well as a round of open debate and questions. The event will be online and will count with interpretation in English and Spanish. You can sign-up here.
With the aim of surpassing simplistic dichotomies, the paper "Beyond urban-rural linkages, the defense of territories and cities for life" introduces a reflection on what is the potential of strengthened urban-rural linkages to advance the Right to The City. The text analyzes the relevance of this discussion based on the current context, linking it with the wider theory and debate around the Right to the City and Human Rights and then citing examples of alternative, more equitable and balanced approaches for acting in territories, with a special focus on the social and environmental function of territory and the equitable distribution of burdens and benefits of economic processes generated in said territories.
Finally, the publication introduces a series of recommendations for national and local governments to strengthening alternative action under five main categories: responsible production and consumption ; solidarity economy; food sovereignty; environmental and territorial justice; territorial planning and management.
See you there!