As in previous years, the Global Platform for the Righ to the City (GPR2C) and its members will participate actively in the 11th World Urban Forum, to be held in Katowice, Poland, from the 26th to 30th of June. The GPR2C delegation will carry out and engage in a series of events and activities, ranging from official sessions to side events and parallel activities. Below you can find information about our activities as well as some of the key messages that we will be convening during WUF11.
Right to the City Key Messages
As the largest forum convened by UN-Habitat, the World Urban Forum will be a key space for discussion on the follow-up on the implementation of the New Urban Agenda,(NUA) in a year marked by the High Level Meeting on the five years of NUA implementation, held by the President of the UN General Assembly on the 28th of April. 
Under this context, the GPR2C will take the opportunity to engage with a diverse range of stakeholders and follow-up on the discussions that have taken place  in April. In line with the overall tone of the official report released by the UN-Secretary General ahead of the HIGH-Level Meeting, the GPR2C is convinced of the renewed relevance of the New Urban Agenda, particularly after the emergence of the COVID-19 pandemic. However, in the face of the lack of commitment to implementation by Nation States, NUA implementation calls for a systematic and multi-stakeholder effort by a wide range of actors, putting human rights commitments and the Right to the City at its center. Read our take-aways from the High Level Meeting here. 
Right to the City Programme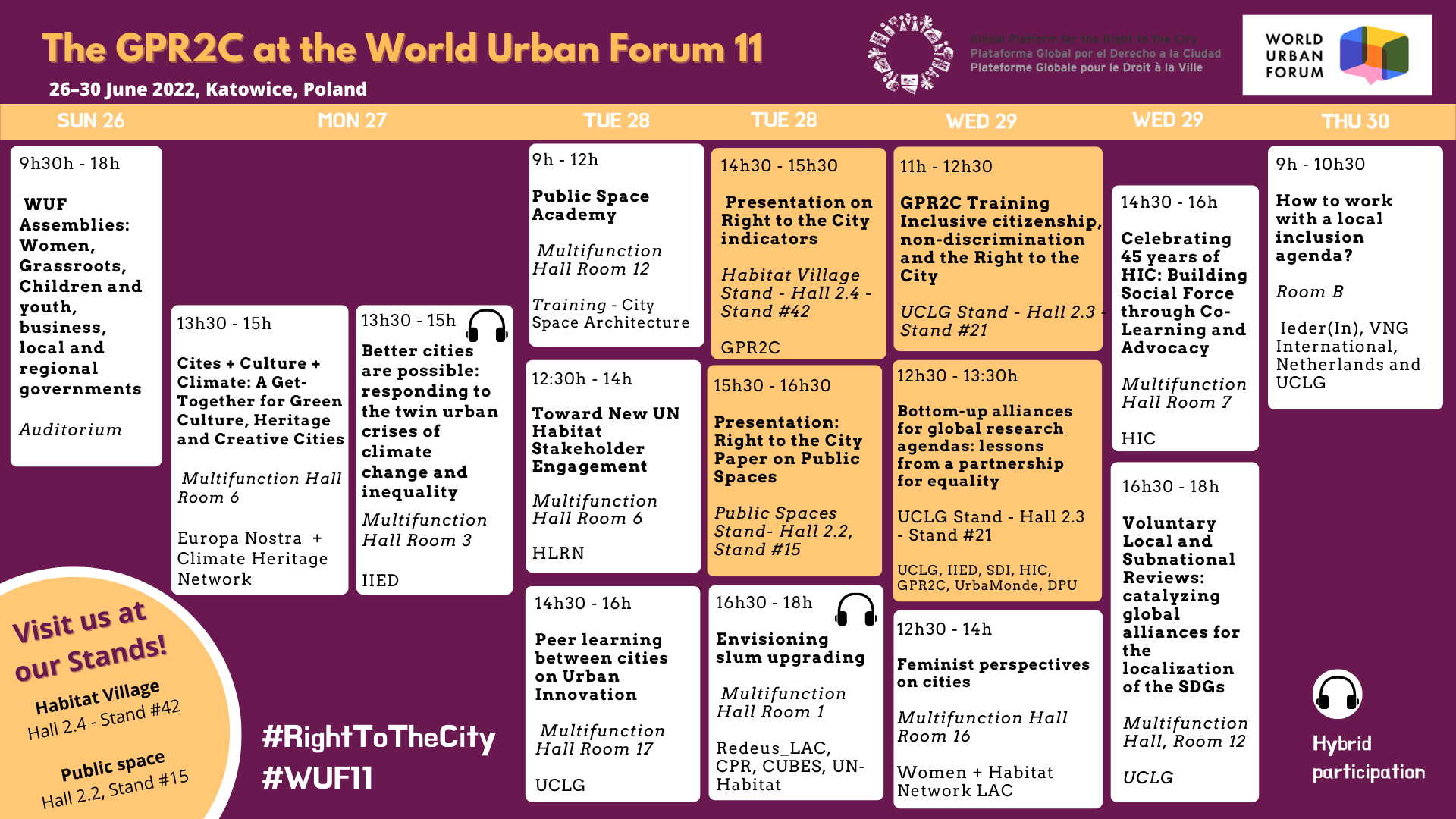 The GPR2C will be joining colleagues in the WUF11 urban expo at two stands. Come visit us and join our activities!
Habitat Village stand – Hall 2.4 – Stand #42
Come visit the Habitat village stand organized by the Co-Habitat Network partner organizations for a programme of activities and to better understand our joint work on community-led initiatives. 
Presentation and chat on the Right to the city Indicators
Date: Tuesday, June 28th, 14h30 – 15h30
Location: Habitat Village Stand, Hall 2.4 – Stand #42
Earlier this year, the GPR2C, along with Observatori DESC has published a guide to implement indicators to follow-up on the implementation of municipal policies aligned with the Right to the City and as an accelerator for the implementation of global agendas such as the New Urban Agenda and the Sustainable Development Goals. Come join us to get to know the methodology, how it has been implemented in Barcelona and discuss the potential on how it can be implemented in other cities as well.
Public space stand – Hall 2.2, Stand #15

The GPR2C will also be joining a series of organizations working on sustainable, diverse and inclusive public spaces. Come visit us to get to know those initiatives and learn more about Public Spaces as a component of the Right to the City. 
Presentation and chat on the Policy Paper on Public Spaces
Date: Tuesday, June 28th, 15h30 – 16h30
Location: Public Space, Hall 2.2, Stand #15
Join us for the public release of the GPR2C Policy Paper on ​​Cities and Human Settlements with Quality Public Spaces. This paper explores the complexity of public space across different dimensions: urban, cultural, artistic and performative, political, environmental, and virtual. Public space is not simply a well-designed physical space for public enjoyment; it is primarily a way of re-thinking cities and human settlements so that they can powerfully contribute to the effective implementation of the main pillars of the right to the city. The author of the paper, Luisa Bravo from City Space Architecture, will join us for the presentation and debate with other organizations working on the theme. 
Discover more with the specific campaign for this Thematic Paper!
UCLG Stand – Stand Hall 2.3 – Stand #2​1
Finally, we will be joining our colleagues from United Cities and Local governments at their stand to keep on advancing the possibilities for collaboration and joint action between civil society organizations and local governments to advance on the Right to the City.  
Training on the Right to the City and No Discrimination and Inclusive Citizenship
Date: Wednesday, June 29th, 11h – 12h30
Location: UCLG Stand, Hall 2.3 – Stand #21
The training event will contribute to the understanding of the commitments included in the International Human Rights framework, 2030 Agenda and the New Urban Agenda by connecting them to the existing practice and collective knowledge around cities with inclusive citizenship as component of the Right to the City. This understanding will empower participants to demand for the implementation of these commitments therefore strengthening their work on the Right to the City to achieve Cities with Inclusive Citizenship.
Find out more activities at the Habitat Village Stand: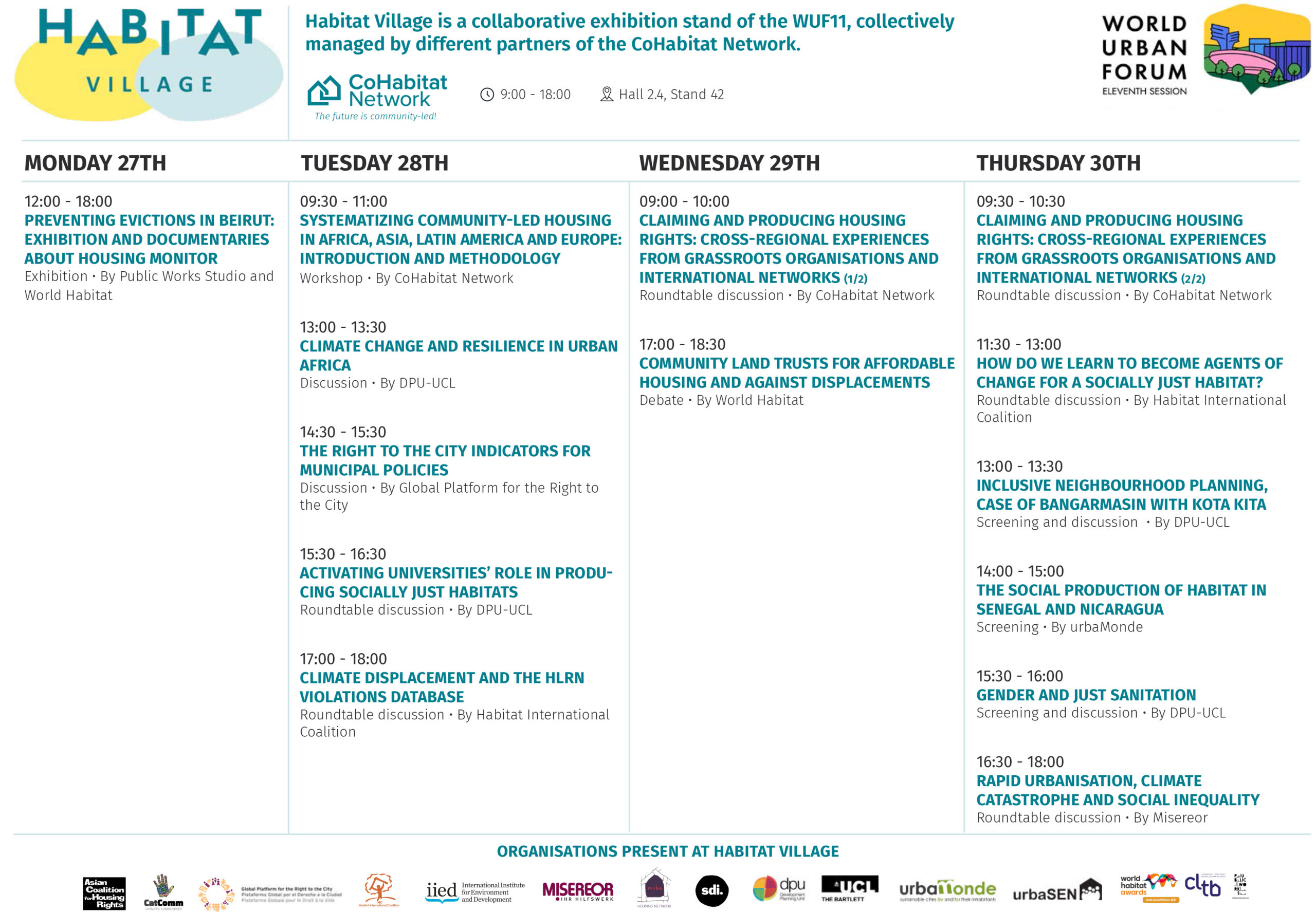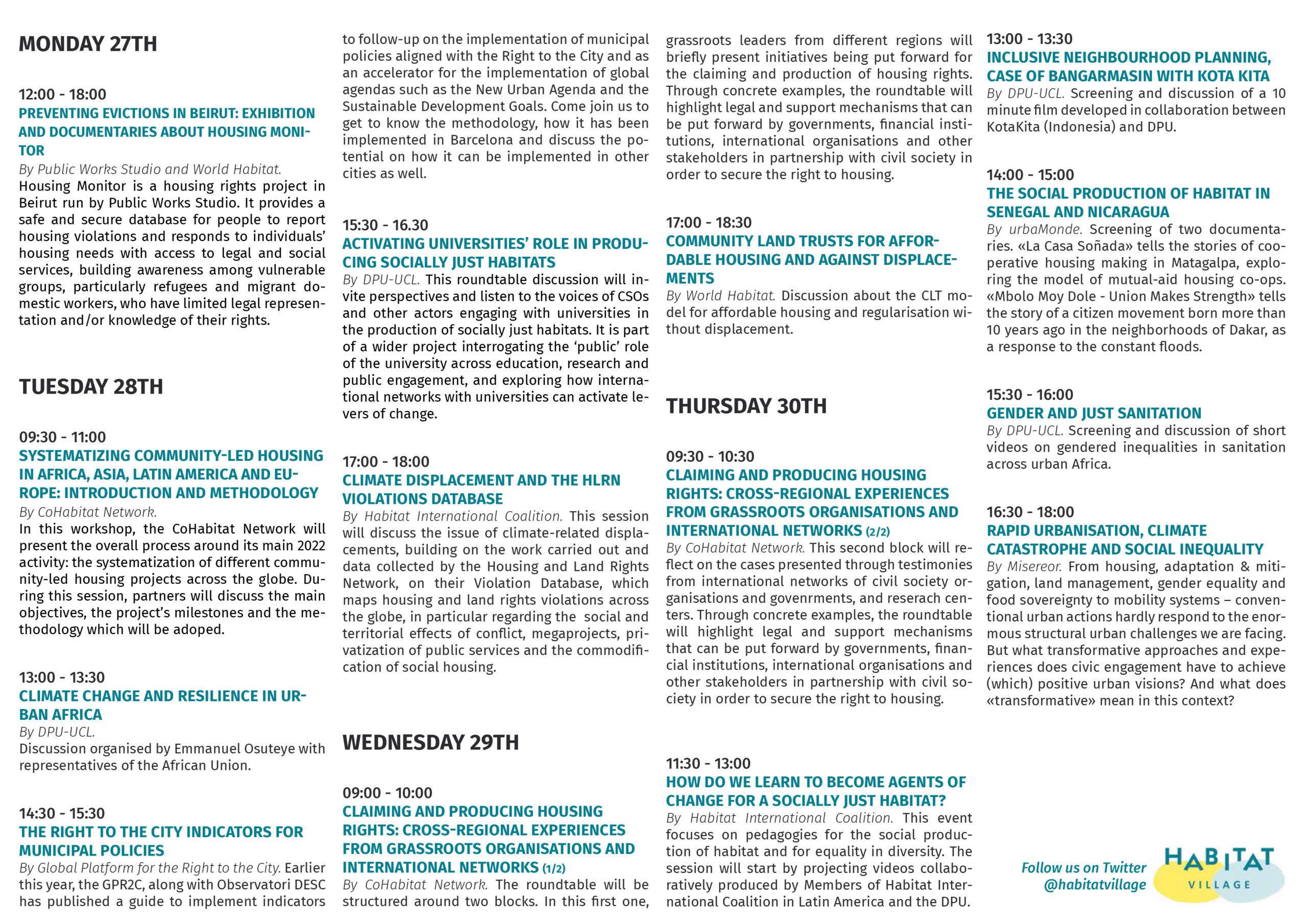 GPR2C Members and Allies Events
WUF Assemblies: Women, Grassroots, Children and youth, business, local and regional governments
Sunday, June 26th, 9:30h-18h – Auditorium
Assemblies, whether in plenary or break out groups, also offer the potential for stakeholders to contribute ideas or language to the set of WUF11 Declared Actions: all of which will form part of the consensus document that emerges from the convening to provide a roadmap for cities to achieve the Sustainable Development Agenda. Assemblies will be held for the following constituencies: Women, Grassroots, Children and youth, business, local and regional governments. More information here.
Networking event – IIED – Better cities are possible: responding to the twin urban crises of climate change and inequality
Monday, June 27th, 13.30h – 15h – Multifunction Hall Room 3 – Hybrid participation
This event key objectives are to facilitate knowledge sharing and promote networking opportunities around the following question: How can cities promote resilient, low-carbon and just urbanization in a context of increasing climate breakdown and inequality. This networking event also aims to launch the publication of an agenda-setting document by the Human Settlements Group of The International Institute for Environment and Development (IIED) focused on how the housing, poverty, migration and resilience agendas can inform and engage with global debates concerning urban sustainability and climate change. More information here.
Networking event "Cites+Culture+Climate: A Get-Together for Green Culture, Heritage and Creative Cities"
 27 June from 13.30 to 15.00 at the ICC Multifunction Hall – 1st floor, Room 6 
 Europa Nostra and the Climate Heritage Network
The event provides a convivial, informal and inspiring space for private and public actors active in the fields of culture, cultural heritage, and creative industries who are leading transformational climate action at city level to meet, exchange and network. The goal would be to foster synergies, inspire collaborations and initiate partnerships for a greener, more inclusive and more sustainable urban future through arts, heritage and culture.
Training event – Architecture Sans Frontieres – IIED – Scaling up community-led planning: Learning from Freetown
Tuesday, June 28th, 9h – 12h, Multifunction Hall Room 6
This Training Event aims to explore the relevance of community-led planning as a means for making cities more inclusive, localizing the Sustainable Development Goals and implementing the New Urban Agenda. Drawing lessons from the experience of Freetown, Sierra Leone, the focus will be on informal settlement upgrading initiatives and on the challenges and opportunities for taking community-led planning for informal settlement upgrading to scale. The event is hosted by Architecture Sans Frontières UK with the Sierra Leone Urban Research Centre and the International Institute for Environment and Development. More information here.
Public Space Academy: a transformative learning experience for a new approach to urban complexity built around public space
Tuesday, June 28, 09:00-12:00, Multifunction Hall Room 12   – City Space Architecture
The first, free, interdisciplinary educational program entirely dedicated to public space, aimed at establishing a more comprehensive, human-oriented understanding of our cities and societies. The objective is to inspire and empower a new generation of urban thinkers and innovators who are willing to become agents of change in their own cities and communities.
More information here
Voices from Cities – LSE Cities, UCLG and Metropolis – Governing Complex Emergencies: The urban and regional response to COVID-19, the climate emergency and social justice crisis
Tuesday, June 28th, 10:45h – 12:15h – Room A
This event will draw on crucial learnings from cities and regions that have actively engaged in responses to COVID-19, the climate emergency and social justice crisis. These learnings will cut across multilevel emergency governance, new communication strategies, innovative democratic engagement, and territorial approaches. The proposed event also recognises the direct connection between emergency governance and the need for more urgent and radical action advancing the global agendas. More information here.
Networking event – HLRN, Toward New UN Habitat Stakeholder Engagement
Tuesday, June 28th, 12:30h – 14h, – Multifunction Hall Room 6
The networking event will provide background with a review of the rich history of UN Habitat stakeholder engagement since 1976. Veterans of UN Habitat engagement, including UN Habitat officers and stakeholders from civil society and local government will share their 45 years of experience, culminating in the new UN Habitat Assembly and governance system. That will provide the basis for consideration of current opportunities for engagement, as well as the proposals presented by the Institutional Mechanism Working Group and reports from the Stakeholder Advisory Group Enterprise (SAGE) for consideration of future prospects for developing the promising self-organized mechanism for supporting and advising UN Habitat's normative and operational roles. More information here.
Networking Event – ENDA Ecopop – Participatory budgeting to promote cities in harmony and build a future better urban
Tuesday, June 28th, 14:30h – 16h, Multifunction Hall Room 19
This networking session will strengthen the dialogue of experiences in terms of inclusive and participatory governance. It will promote the latest innovations attempted in cities on the concept of participatory budgets. Specifically, this will be through presentations made by decision-makers representing countries and cities, civil society practitioners and academics, researchers from Africa, America, Asia and Europe i) to strengthen knowledge on innovations and participatory budgeting mechanisms as tools for inclusive governance, and ii) to share on the progress, achievements and challenges of participatory budgeting approaches as mechanisms for co-construction between a multitude of actors at the various levels of urban governance , to transform cities for a better urban future. More information here.
Networking event – Redeus_LAC, CPR, CUBES, UN-Habitat – Envisioning slum upgrading for the city of tomorrow
Tuesday, June 28th, 16:30h – 18h, Multifunction Hall Room 1 – Hybrid participation
The aim of this network event is to continue expanding and consolidating the global community of production of knowledge, learning and practice on slum upgrading, building on the previous efforts and consensus, envisioning a platform of practitioners & researchers that can implement joining activities and meet regularly and grow at every WUF session. More information here.
Networking event – Women and Habitat Network LAC – Feminist perspectives on cities – the intersection of theories and praxis
Wednesday, June 29th, 12:30h – 14h, Multifunction Hall Room 16 
This networking event will talk about feminist perspectives in the cities and the right that women have to use and enjoy the cities and for them to be designed with a gender perspective and meeting their need. More information here.
Bottom-up alliances for global research agendas: lessons from a partnership for equality
When: Wednesday 29th, from 12:30-13:30.
Where: UCLG Stand – Hall 2.3 – Stand #21.
UCLG, IIED, SDI, HIC, GPR2C, UrbaMonde and DPU
The key focus of the dialogue will be on the role of partnerships between local and regional government networks with civil society and academic actors in global reporting processes. This will be an opportunity to reflect on the GOLD experience and its links to other UCLG processes (such as the Town Hall), as well as other processes led by civil society networks.
Networking event – HIC – Celebrating 45 years of HIC: Building Social Force through Co-Learning and Advocacy
Wednesday, June 29th, 14:30h – 16h, Multifunction Hall Room 7
The event will provide the space for a joint reflection on past and current learning and advocacy practices and possible popular pedagogies for building social force around habitat rights. The first block of discussion will focus on an exchange with representatives of networks and organizations of different regions on the past and contemporary role of critical pedagogies in building social force within different social movements related to the right to housing, feminist perspectives and beyond. The second block will focus on the key discussions and actions emerging from three specific Co-learning and Advocacy Spaces developed by HIC during the first semester of 2022 on (i) Feminist approaches to habitat, (ii) Land Rights and (iii) Multi-level advocacy.  More information here.
Networking Event – UCLG – Voluntary Local and Subnational Reviews: catalyzing global alliances for the localization of the SDGs
Wednesday, June 29th, 16:30h – 18h, Multifunction Hall Room 12
This event would be a good opportunity to discuss ways to bring the VLR and VSR processes and partners closer together, to share their progress, challenges and results in terms of methodology and advocacy, so as to strengthen the capacities and resources of both LRGs and LGAs. VLRs and VSRs have indeed the same objective: to highlight the progress of the LRGs in the localization of the SDGs to make their efforts visible and to foster a "whole of government" and a "whole of society" approach to achieve the SDGs. More information here.
Voices from Cities event – Ieder(In), VNG International, Netherlands and UCLG – How to work with a local inclusion agenda?
Thursday, June 30th, 9h – 10:30h, Room B
Traveling by public transport, going to school, doing something fun or applying for a job can be quite a challenge for people with disabilities. Municipalities draw up local inclusion agenda's to ensure that anyone can fairly participate in society. This event guides you through the do's and don'ts, voiced by the experts.
Transforming women of cities: sustainable, equal and safe local governance from the contribution of Latin America
Thursday, June 30, 2022, 12:15-13:45, Multifunction Hall Room 13
FEMUM ALC/UrbanThinkersCampus Peru. Coordinator of the Habitat-Peru Group, GAP, WRI
The event places emphasis on issues of cities of peace, resilience, "sanctuaries" for migrants and their financing. From a gender, intercultural, ethnic approach against racism and xenophobia, age, peace and security, resilience, financing for equality and safe migration. Its horizon is the City We Need, the Right to the City, and a sustainable future, from the role of women in local governance, and emphasizing the axis of budgeting with a gender perspective.
More information here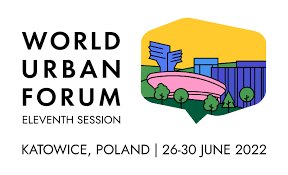 The World Urban Forum (WUF) is a global conference on sustainable urbanization It brings together a wide range of participants from around the world to discuss major urban challenges facing the world today. WUF11 will be held in the Polish city of Katowice from 26-30 June 2022. It is co-organized by Poland's Ministry of Development Funds and Regional Policy and the Municipal Office of Katowice and the United Nations Human Settlements Programme (UN-Habitat).
Theme and practical information
The theme of WUF11, Transforming our Cities for a Better Urban Future, will provide greater insights and clarity on the future of cities based on existing trends, challenges and opportunities, as well as suggest ways cities can be better prepared to address future pandemics and a wide range of other shocks.
Online Registration: opened on 15 December 2021 and closes on 22 June 2022. Click here to register.
Venue:  International Congress Centre (MCK), Plac Sławika i Antalla 1 40-163 Katowice, Poland. More information can be found on www.mckkatowice.pl/en/.
Programme: Full information about different events at WUF11 is available on the WUF 11 website.